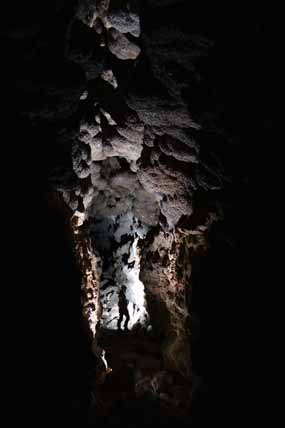 NPS Photo by Dan Austin
Exploration of Jewel Cave is ongoing, and airflow studies indicate that only a fraction of the cave has been discovered so far.
Click the links below to read summaries of some cave exploration trips:
September 10, 2014: A team of four cave explorers surveyed 106.85 feet near the Curio Shop in the main part of the cave. The length of the cave is now 171.96 miles.
March 11, 2014: Recently, there were three cave exploration trips with about 675.4 feet discovered and surveyed. One trip was to the southeast area known as The Turtle Room, and one trip went west to the Visc / Vard section of the cave. The third trip was to the west and south past the Fitting Room. Cave explorers discovered a passage heading southwest off the edge of the current map that they named the Southwest Splinter. Explorers ran out of time, but the passage continues beyond where they had to stop, with airflow (a lead). This last trip also replaced an old 2-gallon water collector in the far west with a new 15-gallon water collector.
November 2, 2013: The survey team mapped 1,168.32 feet of new passages in an area between Blessed Relief and Pseudomite Corner. The passages were mostly walking in size, but there was one squeeze that was named "The Vocal Struggle". A new loft was discovered with a popcorn-covered ceiling more than 60 feet tall so we called it "Kettlecorn Loft". Many smaller passages were left as continuing leads from this new area.
July 21, 2013: An exploration team went to the Mind Blower area and mapped 90 feet of new passages. The explorers were hoping to make a connection between the Mind Blower and Art Attack areas, but did not succeed on this trip.
July 14, 2013: The exploration team went to a lead just before the Miseries and discovered a lower level passage with shelfstone, flowstone, and dry pools. In some places the ceiling was 40 feet tall. They surveyed 273.25 feet and left more passages to explore at a later date.
March 13-16, 2013: Four-Day Camp
February 23, 2013: Big Block Room
February 10, 2013: Counting House
February 7, 2013: Rambling Loft
January 17, 24, and 31, 2013: G Survey