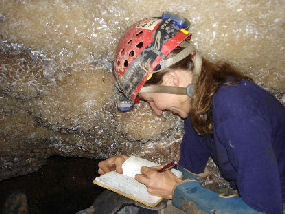 NPS Photo
All survey data (distances, compass bearings, and vertical angles) are recorded in a book by another team member, the "sketcher." The sketcher also records estimated passage dimensions at each station. The dimensions are the distances to passage walls up, down, left, and right of the station. The data is recorded on the left-hand page of the survey book. On the right-hand page, which is gridded, the sketcher draws lines representing the survey shots. A north arrow (usually pointing up) and scale are always drawn on this page. Around the lines, the sketcher draws the passage walls to scale, making sure to include leads and major passage features.
A detailed inventory of cave formations, wet areas, geological and biological features are recorded in a separate book. All of the features found near a particular station are listed next to the station name in the inventory book.
After the trip:
Once the group comes out of the cave, the survey data is entered into special cave mapping software. The software adds up the lengths of all of the survey lines in the cave and gives the official surveyed length of the cave.
The software generates a "line plot" of the cave, which shows the survey lines that connect each pair of survey stations. Using the sketch that was made in the cave, the passage walls and features are drawn by hand around the computer-generated line plot. These new maps are then connected to the "master map" of the entire cave.
Inventory data is also entered into the computer. This information can be used to generate maps of the cave highlighting areas where water is found or where a certain unusual feature can be seen.