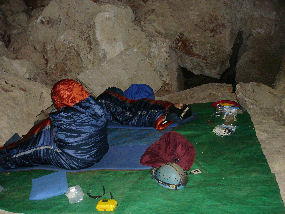 Andy Armstrong Photo
As of early 2006, Jewel Cave has been surveyed to a length of 135 miles, and is the second longest cave in the world. The longest is Mammoth Cave in Kentucky at 367 miles. One primary difference between the two caves is the number of entrances. The Mammoth Cave System has more than 25 entrances and has been explored and interconnected between these many points of access. Jewel Cave has only two entrances about a mile apart from one another. One of these is an artificial elevator entrance. This not only makes Jewel the longest cave in the world with only one natural entrance, but also means that a lot of distance must be traveled to reach the edges of the known cave. In the east, the "end" of the cave is seven miles from the elevator, about eight miles from the Historic Entrance. It would be very difficult to travel this route both directions in one day. So, most exploration out there takes place on four-day camp trips. Camping in the cave was begun in 1997 when a camp was established in the Big Duh, about five miles from the elevator. Since that time about 22 miles have been surveyed, and the known end of the cave is 3.5 hours from camp. On the most recent camp trip, we estimated that we traveled about 20 miles underground in four days. Such distances are unheard of except in a few other caves worldwide. Seven miles in is probably the farthest underground distance you can travel from a cave entrance in the United States. At the edge of the known cave there are unexplored leads and strong airflow, indicating still more cave beyond.
Another unique thing about Jewel is that there is strong airflow deep in the cave. I have explored other caves with strong barometric wind, like Wind Cave and Lechuguilla Cave. Both of these caves have extremely strong winds at the entrance, but inside, the airflow disperses through many passages and can hardly be felt. In Jewel Cave, there are definite airflow routes. When traveling through the Miseries or the Tenderizers, the airflow can be quite intense. There are places named Hurricane Corner, the Exhaust Pipe, Snow Blower, Long Winded Passage, and the Mind Blower; all because of the wind blowing through these passages. There are even places where the wind is so strong that it is audible. Thus, we get places called the Humdinger, the Horn, and the Whistle Stop. When exploring a cave, airflow is probably the best indication of more cave beyond. So we follow the wind to see where the cave will go. Barometric airflow can be used to calculate the cave's volume. Herb Conn did volume calculations based on airflow and came up with four to five billion cubic feet. The known cave only accounts for about 120 million cubic feet. This means there could be more than 95% of the cave still awaiting discovery.