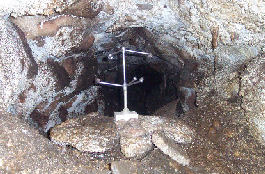 Airflow Study
Since 2003, a cave climatologist has been conducting a cave airflow study in the Black Hills. He has placed ultrasonic anemometers and temperature loggers in several barometric caves, including Jewel Cave and Wind Cave.
Ultrasonic anemometers are highly sensitive instruments that can measure not only the velocity of airflow, but also the direction, temperature, and vertical flow component. This study is an attempt to better understand the dynamics of cave airflow, to calculate cave volume, and to determine whether or not the studied caves are connected to each other.
At Jewel Cave, airflow has been measured at the Historic Entrance and at constrictions leading to the eastern and western branches of the cave. Click here to listen to cave specialist Mike Wiles discuss the airflow study.