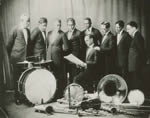 The All-American Music
A Chronology of New Orleans Jazz
Featuring the Arrowhead Jazz Band

The Park's mission is to preserve information about New Orleans' participation in the development of jazz. To spotlight the significant efforts of early New Orleans players, the National Park Service has produced this unique pair of CDs featuring a specially assembled group, the Arrowhead Jazz Band, named, appropriately, after the Park Service's familiar logo.
These CD's can be purchased from our bookstore
---
On Volume One, the Arrowhead Jazz Band plays 14 tunes that were originally recorded in New Orleans by New Orleans jazzmen during the jazz era. These hometown recordings are important aural documentations of the sounds heard in the city's parks, cafes, dance halls, cabarets, barrel houses, and hotel ballrooms.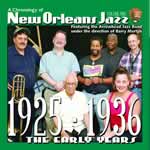 Samples from Volume One
1. Red Man Blues
2. Peculiar Rag
3. Let Me Call You Sweetheart
4. My Josephine
5. Station Calls
6. Pretty Audrey
7 He's the Sweetest Black Man In Town
8. Meat on the Table
9. Throwin' the Horns
10. Mobile Stomp
11. Short Dress Gal
12. Wylie Avenue Blues
13. Astoria Strut
14. Goodbye, Good Luck to You
---

The tunes played by the Arrowhead Jazz Band on Volume Two are based on material recorded in New Orleans years after portable equipment was brought to preserve the sounds of the "Early Years." Ironically, as the "Revival" period was developing in the '40s, recording facilities were available locally, but they did not allow black musicians in the studios. As a result, most of the masterful records that inspired this program were made on portable eqipument in store rooms, radio stations, dance halls, etc. The musicians who recorded these historically important recordings were born before or near the turn of the twentieth century and enjoyed careers that significantly contributed to the development of New Orleans jazz.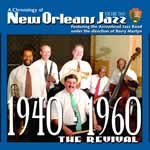 Samples from Volume Two
1. Get It Right
2. The Moose March
3. Storyville Blues
4. Big Chief Battle Ax
5. Bluebells Goodbye
6. Fidgety Feet
7. Uptown Bump
8. When You and I Were Young Maggie
9. Precious Lord Take My Hand
10. The Curse of an Aching Heart
11. Yaaka Hula Hickey Dula
12. Eh La Bas
13. Come on Down to New Orleans
14. Houma, Louisiana