NPS Photo
Jazz History Walking Tours
Explore six New Orleans neighborhoods and their connection to jazz history. These self-guided maps highlight venues, businesses and homes important in New Orleans music history. The park has also created 2 separate jazz history audio tours with accompanying brochures that are available on the park homepage. The Jazz Walk of Fame is located in Algiers Point and our jazz history audio tour is located in or around the French Quarter. Both tours can be downloaded as mp3 files, or you can listen to the narrations and music by dialing 504-613-4062 and entering the tour stop number.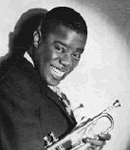 Photo Courtesy Hogan Jazz Archives
People of Traditional New Orleans Jazz
Numerous musicians were key players in the development and progression of New Orleans jazz. Culture, ethnicity, neighborhoods, and families all played a role in shaping each performers contribution to the music. Explore these short profiles of New Orleans jazz pioneers and learn how each one shaped the music.

NPS Photo
Oral History Project
The New Orleans Jazz NHP has collected oral histories from over 200 New Orleans musicians, and the work continues. Oral history interviews can currently be viewed at the Williams Research Center or the Hogan Jazz Archive at Tulane University.