On Saturday, October 13, 2012, in observance of Virginia Archaeology Month, Historic Jamestowne will provide special programming outlining years of Jamestown archaeology. Sponsored by the National Park Service, Preservation Virginia and Colonial Williamsburg, a variety of programs will be offered for children and adults, including the opportunity for children to excavate in the Jamestown Junior Archaeologist Dig Box, make souvenir clay pinch pots and watch archaeologists at work in the 1607 James Fort archaeological site. Special glassblowing demonstrations will also be conducted at the Jamestown Glasshouse.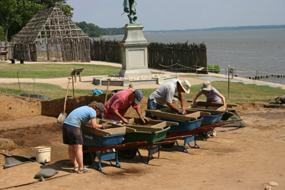 NPS Image
10:00 a.m. to 4:00 p.m. - WITNESS ARCHAEOLOGY IN ACTION
Watch as Preservation Virginia Jamestown Rediscovery archaeologists scrape away layers of earth, uncovering objects and soil stains from 400 years ago. Archaeologists will be working at the fort site from 9:00 a.m. to 4:00 p.m. to talk with visitors about past and recent discoveries. Staff washing artifacts will answer questions about archaeological conservation from 10:00 a.m. to 2:00 p.m.
10:00 a.m. to 4:00 p.m. - NATIVE LIFEWAYS OF THE CHESAPEAKE
Learn about the material culture and life ways of the Tidewater Algonquians in early Virginia. Daniel Abbott, a Nanticoke descendant, provides demonstrations of toolmaking, domestic skills and more.
10:00 a.m. to 4:00 p.m. - MEET A SETTLER
Step back in time with Anas Todkill and learn about his experiences as one of the first English settlers at Jamestown.
10:00 a.m. to 4:00 p.m. - FORGED IN HISTORY
Blacksmiths demonstrate iron smelting, one of the trades practiced by the early settlers.
10:00 a.m. to 4:00 p.m. - ARTIFACT ADVENTURES AT THE ARCHAEARIUM
Join archaeological conservators to learn how artifacts make it from the field to exhibit and learn about the tools used to conserve them at the Nathalie P. and Alan M. Voorhees Archaearium. Assist archaeologists sorting through the smallest excavated material to find animal bones, shell and seeds for clues to fort life in the 17th century.
11:00 a.m., 1:00 p.m. and 2:30 p.m. - ARCHAEOLOGIST WALKING TOUR
Join an archaeologist for an in-depth tour of the 1607 fort site and learn about this season's excavations.
10:00 a.m. and 3:30 p.m. - RANGER WALKING TOURS
Join Park Rangers tours highlighting the history of this First Permanent English Settlement in North America.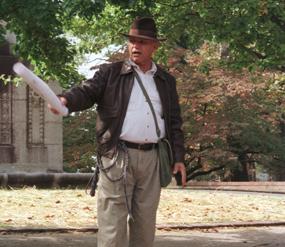 NPS Image
12:00 noon and 2:00 p.m. - TOUR HISTORIC JAMESTOWN WITH JAMESTOWN JONES
Indiana's older (and slightly less well-known) brother will lead special archaeology tours of Jamestown discussing the site's role in the development of historic archaeology. During the 45-minute tour, learn how archaeology, artifacts and historic documents combine to bring the story of the first permanent English settlement in North America back to life.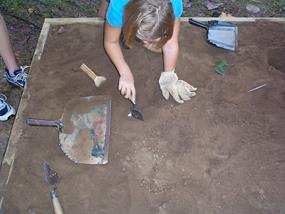 NPS Image
SPECIAL CHILDREN ACTIVITIES
10:00 a.m. to 3:00 p.m. - SURVIVORS: A JAMESTOWN ADVENTURE
Can you survive in the New World? Start your adventure at the Historic Jamestowne Visitor Center and find the keys to survival as you explore Jamestown Island. Will you find the resources and supplies to save the colony and yourself? Collect your reward when you complete the adventure at the Nathalie P. and Alan M. Voorhees Archaearium and find out if your are a survivor?

11:00 a.m. to 1:30 p.m. - JAMESTOWN JUNIOR ARCHAEOLOGIST DIG BOX
Using the same techniques and guidelines used by professional archaeologists at Historic Jamestowne instructors will guide children and their parents through the archaeological process with a short hands-on program. Individual participation lasts approximately 30 minutes. The program is designed for children ages 7 and above, and all participants must be accompanied by a parent or an adult.
1:30 p.m. - MAKE A PINCH POT
Learn how the American Indians made and used pottery. Participants will make a pot using the pinch method employed by the American Indians.
OTHER SPECIAL PROGRAMS:
9:00 a.m. to 5:00 p.m. - Glasshouse of 1608
While onsite, guests are invited to visit the Jamestown Glasshouse of 1608 for special activities and demonstrations highlighting the importance of the glass industry and its development at Jamestown. Glassblowers make 17th-century German style drinking vessels and demonstrate the Italian glass techniques using colored glass rods to make delicate designs. In addition, there will be opportunities to observe how 17th-century window pane glass was made, create a design that the glassblowers will make and participate in a raffle for prizes.
10:00 a.m. to 2:00 p.m. - Historic Green Spring Open House
Guests are invited to visit Historic Green Spring, the site of the estate of Governor Sir William Berkeley. The Friends of the National Park Service for Historic Green Spring will host this annual open house on the grounds of the 17th-century plantation, where the colonial government met after Nathaniel Bacon destroyed Jamestown in 1676. Normally not open to the public, the open house provides an opportunity to visit this important historic site. Guest will meet Governor Berkeley and Lady Frances Berkeley and enjoy exhibits and family activities. Since there is no parking at Historic Green Spring, guest park at the Historic Jamestowne Visitor Center and ride a courtesy shuttle to the side. Admission to the Green Spring site and shuttle are part of the Historic Jamestown entrance fee.
Admission to Historic Jamestowne is $10.00 per adult with children 15 and under free. This fee entitles you to both Historic Jamestowne and the Yorktown Battlefield for 7 consecutive days. America the Beautiful National Park passes are accepted . Preservation Virginia members are also admitted free. For further information, call (757) 856-1200 or 898-2410 or 229-4997.
ALL PROGRAMS WILL BE HELD WEATHER PERMITTING.
Historic Jamestowne preserves and interprets the site of the first permanent English settlement in America and is jointly administered by APVA Preservation Virginia and the National Park Service - Colonial National Historical Park. Admission is $10.00 per adult, age 15 and younger is free, and includes all Archaeology Day programming. National Park Service passports and APVA memberships are honored.
Historic Jamestowne is located at the western terminus of the Colonial Parkway; from I-64, take exit 242-A (Route 199) and follow the signs for Colonial Parkway/Jamestown. From southside, take the Jamestown Ferry and turn right onto Route 359, following the signs for Historic Jamestowne. For additional information, contact Colonial National Historical Park at 757-856-1200 or 757-898-2410, or via the Internet at www.HistoricJamestowne.org.