African-American History Month 2012
In celebration of African American History Month and to commemorate the 150th Anniversary of the Civil War, Historic Jamestowne will offer special living history presentations highlighting the role played by African Americans at Jamestown during the Civil War. The programs will take place at the Historic Jamestowne Visitor Center on Saturday, February 18 at 11:00 a.m., 1:00p.m., and 3:00p.m. The programs are open to the public and are included in the normal entrance fee of $10 for adults, children 15 and under admitted free.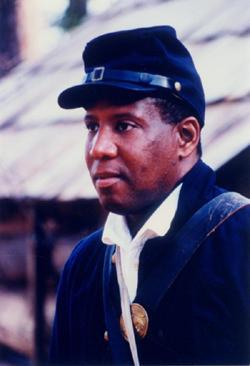 Award-winning historian and actor-interpreter Jerome Bridges will portray former slave turned soldier Private Harrison Woodson of the 25th Corps United States Colored Troops (USCT).
At 11:00 a.m., 1:00 p.m. and 3:00 p.m., Private Harrison Woodson of the 122nd Regiment, United States Colored Troops (19th century) will discuss his life as a former slave turned soldier in the American Civil War. One of many black Union soldiers serving in the Army of the James, Woodson and his unit rotated between the Union Army outpost on Jamestown Island and the Lower Peninsula, where Private Woodson found himself guarding Confederate prisoners at the conclusion of the war.
Historic Jamestowne offers a wealth of activities for exploring the first permanent English settlement in North America. Visitors can share the moment of discovery with archaeologists and witness archaeology-in-action at the 1607 James Fort excavation; learn about the Jamestown Rediscovery excavation at the Nathalie P. and Alan M. Voorhees Archaearium, the site's archaeology museum; tour the original 17th-century church tower and Jamestown Memorial Church (a reconstruction of the 1639 brick church), and take a walking tour with a Park Ranger. The park's entrance gate is open from 8:30 a.m. to 4:30 p.m. The Historic Jamestowne Visitor Center and Voorhees Archaearium are open from 9 a.m. until 5 p.m., and the grounds remain open until dusk.
Historic Jamestowne is jointly administered by the National Park Service and Preservation Virginia and preserves the original site of the first permanent English settlement in the New World. Admission is $10.00 for adults with children 15 and under free of charge. National Park Service and federal recreation passes are also honored. For further information, visit
www.nps.gov/jame
or
www.HistoricJamestowne.org
. You can also call (757) 856-1200 or (757) 898-2410.