"To Preserve and Protect" Two Women Making a Difference at Jamestown
Although all of the first 104 settlers landing on Jamestown Island were men, women played an important role in the history here, too, both in colonial days and in more recent times. Meet two women whose skills in preservation, organization and interpretation helped create and maintain the legacy we enjoy today here at Jamestown.
Please click on the names below to learn more about each woman.
Did You Know?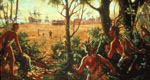 The land the English settled in 1607 was already home to more than thirty Powhatan Indian tribes. Each tribe had its own chief (weroance/weroansqua) who was "ruled" by paramount chief (mamanatowick) Powhatan. This Powhatan Chiefdom spanned all of tidewater Virginia and parts of the Eastern Shore. More...