Garfield Home is Closed in September; Visitor Center and Grounds Remain Open

The Garfield Home is closed from September 2 through March, 2015 for the installation of a new geothermal heating and air conditioning system. The Visitor Center and Grounds will remain open during this time; Tuesday-Saturday 10am-5pm. More »
Behind the Scenes, Behind the Ropes, Civil War Tour Suspended

Due to the house closure, the Behind the Scenes, Behind the Ropes, and the Civil War tour will be suspended until April, 2015. We appreciate your understanding and hope to see you in the spring!
Garfield and the Civil War Tour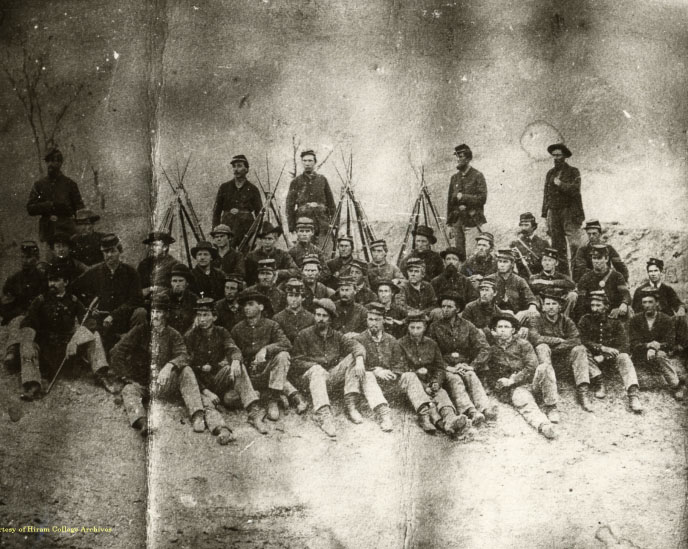 Hiram College Archives
This informative program is a must for both casual and dedicated Civil War buffs. It explores James A. Garfield's Civil War service to the Union, including his roles at the battle of Middle Creek and Chickamauga. This 90-minute tour begins in the Visitor Center and then proceeds to the Garfield Home, at which Garfield's time as a soldier is emphasized.
Guests for this tour must be 16 years or older. Thank you for respecting this condition. Cost is $15 per person, and holders of the America the Beautiful Senior, Access Annual or Military pass receive half-off tickets (cardholder only). This tour lasts about 1 1/2 hours, and includes stair climbing to the third floor of the Garfield Home. Visitors with problems climbing stairs are cautioned not to take this tour.
Reservations can be made by calling 440-255-8722. Spaces are limited so please plan ahead.
Did You Know?

James A. Garfield was the last president to be born in a log cabin. He was born in Orange Township, Ohio which is now Moreland Hills.