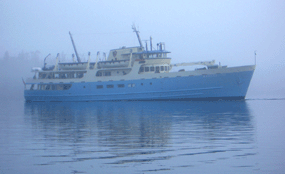 There are four ferries and one seaplane that provide service to and from Isle Royale National Park. All have different fares and schedules and reservations are strongly recommended. Services do fill up, especially in the peak season, late-July through mid-August. Make your reservation as soon as your travel dates are firm. For a more peaceful experience during our slow time, you may want to visit Isle Royale in late May, early June or September.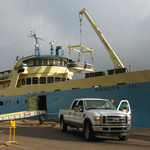 The M.V. Ranger III From Houghton, Michigan

The Motor Vessel Ranger III is the largest piece of moving equipment owned and operated by the National Park Service, and is the largest passenger ferry providing service to Isle Royale National Park. The Ranger III is 165 feet long, 34 feet wide, 648 ton vessel that carries 128 passengers. The ship with its crew of nine offers many amenities, including interpretive and educational programs, a luncheon grill, three staterooms, four comfortable lounges, two decks, and indoor and outdoor seating for passenger comfort. Unlike other service providers, the Ranger III offers transportation for private boats up to 20'00" or less and offers its patrons free parking at a secure lot. The ship operates out of Houghton, in Michigan's Upper Peninsula. Learn more about the history of the Ranger III or read a greeting from the Captain.

The Ranger III offers passenger services from May 26 through September 12. The ship travels from Houghton to Rock Harbor on Tuesdays and Fridays, departing Houghton at 9:00 a.m. EDT, and returns from Rock Harbor to Houghton on Wednesdays and Saturdays, departing Rock Harbor at 9:00 a.m. EDT. To review instructions for making a reservation and payment by e-mail, fax, or mail, click here. To make a reservation using the reservation request form, click here. To make a Ranger III reservation by phone, please call (906) 482-0984. To view the 2015 rates and schedule, click here.
Keweenaw Waterway Cruises

Board the Ranger III for a 2 1/2 hour tour of the mainland's scenic Keweenaw Waterway. Tours depart at 1:00 p.m. EDT on July 16, 23, and 30, and August 6, 20, and 27. To make a reservation for the Keweenaw Waterway Tours, call 906-482-0984.
Ranger III
Isle Royale National Park
800 East Lakeshore Drive
Houghton, Michigan 49931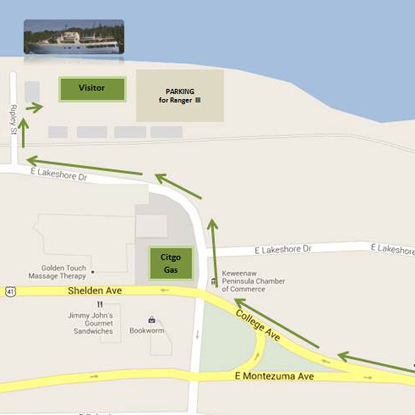 National Park Service
Isle Royale National Park
Houghton, Michigan
Location map