RANGER III Fares and Reservations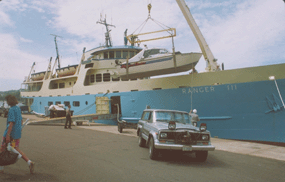 National Park Service
The 2015 season marks 57 years of service of the Ranger III. The Ranger is the largest piece of moving equipment owned and operated by the National Park Service and the largest ferry servicing Isle Royale National Park. The Ranger is a 165 feet long, 34 feet wide, 648 ton vessel that carries 128 passengers. The ship, with its crew of nine, offers interpretive and educational programs, a luncheon grill, three staterooms, four comfortable lounges, two decks and indoor/outdoor seating for passenger comfort. The Ranger offers transportation for private boats up to 20'0" in length. The ship operates out of Houghton, in Michigan's Upper Peninsula. Parking is free and located in secure fenced-in lots. For reservation instructions, click here. To complete and submit a reservation form, click here.

The Ranger offers passenger service from May 26 through September 12. The ship travels from Houghton to Rock Harbor on Tuesdays and Fridays, departing Houghton at 9:00 a.m. EDT, and returns from Rock Harbor to Houghton on Wednesdays and Saturdays, departing Rock Harbor at 9:00 a.m. EDT. The leisurely ride to Isle Royale takes 5 hours to Mott Island and 6 hours to Rock Harbor. To make a RANGER III reservation, please click here.
Keweenaw Waterway Cruises
Board the Ranger III for a 2 1/2 hour tour of the mainland's scenic Keweenaw Waterway. Tours depart at 1:00 p.m. EDT on July 16, 23, and 30, and August 6, 20, 27. To make a reservation for the Keweenaw Waterway Tours, call 906-482-0984.
FARES
ONE-WAY

LOW SEASON
Prior to 7/7 and after 8/23
Adults
$53.00

HIGH SEASON
July 7 through August 23
Adults
$63.00
ALL SEASON
Children (age 7-11)
$23.00
Children (age 6 and under)
Free
Boat (less than 18"00")
$90.00
Boat (18'01" to 20'00")
$140.00
Canoes/Kayaks (hand-loaded)
$22.00
Canoes/Kayaks (over 20'00" or 90 lbs.)
$50.00
Outboard Motor
$15.00
100 lbs. gear per passenger
FREE
Additional freight after 100 lbs.
$9.50/100wt.

GROUP RATES (party 7 or more)
Adults
$53.00
Children (age 7 - 11)
$23.00

SPECIAL RATES:

Ranger III Birthday Celebration
If round-trip is taken between 6/9 and 6/20
Adult - one-way rate
$31.50
Children (age 7-11) - one-way rate
$11.50
Children (age 6 and under)
FREE



KEWEENAW WATERWAY CRUISES
Adult
$20.00
Youth and Children (age 1 through 15)
$5.00
Infants (under 1 year)


Contact Information
Isle Royale National Park
800 East Lakeshore Drive
Houghton, Michigan 49931-1869
(906) 482-0984
(906) 482-8753 (fax)
E-mail us