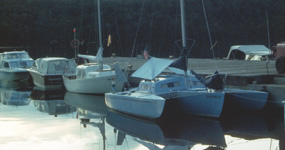 Click here for instructions for making a request for campsites, anchorages, or dock space. If you are using anchorage zones, please view the anchorage zone map by clicking here. To submit on-line boater camping permit request, click here. To make a boater camping request by phone during our business hours, call 906-482-0984.

Please note - for those that do not have a season pass, the on-line submission will require the requestor to called in a credit card payment to cover the park's user fee, $4.00 per person per day - call 906-482-0984, during business hours.

For additional information on boating Isle Royale National Park, please review the park's newspaper and boating information by clicking here.