Fire Prevention and Education
Fire prevention and education play a big role in fire management at the Lakeshore. A part of fire prevention involves developing assessments that look at hazards, values, and risks within and around the park. With this analysis, fire management staff can develop pre-attack plans, possible fuels management areas, and fire education programs to neighboring communities that are at risk.
Become a Junior Wildland Firefighter by completing this booklet.
If you'd like to have your very own model of one of our park fire engines, download this paper model.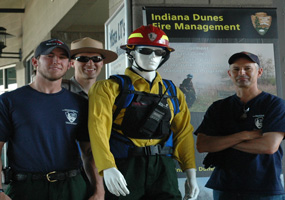 The parks fire management staff promote wildfire prevention and education to increase public awareness of current fire prevention information, fire conditions, and a understanding of prescribed fire as a land management tool.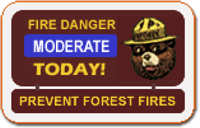 Have you ever seen these signs? Would you like to know what they mean? To learn more about the fire danger ratings and definitions see the Fire Danger Ratings flyer.