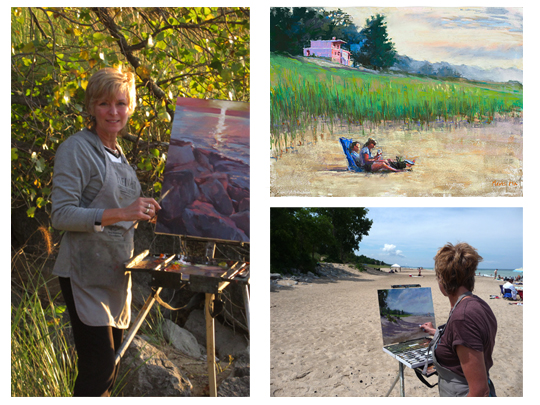 NPS Collection
2011 Artist-in-Residence, Nancie King Mertz
Nancie King Mertz is an accomplished artist that works in oil and pastel. She loves to paint the natural, rugged landscape the dunes have to offer. She states that "To paint non-stop, uninterrupted by phone, computer, and daily work routine, is my favored way to work. I often travel a great distance to escape these distractions to paint on-site, and find that my best work is a result."
When asked how she would respond to park visitors curious about the
Artist-in-Residence Program she responded, "I'm very open to chatting with on-lookers as I paint, and would explain the process of the painting, as well as the opportunity I was offered. Prior to the residency, I would seek a local gallery or venue that would exhibit the pieces as they were completed. Because I also own a frame shop, I would frame completed pieces as-I-go, to have a daily growing exhibit to share with visitors. I would photograph and keep a traveling "bulletin board" of pieces completed and on-exhibit, so that viewers could see the growing collection or go visit the hanging work. As the final pieces are added to the exhibit, an artist-talk would be scheduled for interested viewers at the exhibit venue."