Washington Square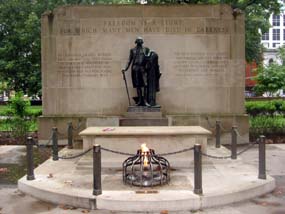 Independence National Historical Park is pleased to announce our
cell phone program
. By dialing 267-519-4295 visitors are able to listen 24/7 to the stories our buildings tell. Park Rangers briefly explain the history behind the Liberty Bell, Independence Hall, Washington Square and the other park buildings. Designed to be user friendly and flexible, visitors may access the stops in any order or go in sequence for a tour of the park. Small signs are posted around the park with the numbers of the buildings from 10 to 31.
Shaded walks lead to a memorial to General George Washington and the unknown soldiers of the American Revolution. Founder William Penn had a plan for Philadelphia. He wanted a prosperous, bustling city with straight, orderly streets. He also set aside five squares, establishing parks for the public. Both ideas influenced the design of many later American towns and cities. Southeast Square, renamed for George Washington in 1825, only slowly lived up to Penn's ideal. In the 18th century, it served as a burial ground and pasture. In the 19th century the city added trees, walks, benches, lamps, and an ornamental fence. An 1846 guidebook described the Square as "beautiful and fashionable." In the mid-20th century, residents added the memorial to Washington and unknown soldiers of the American Revolution. It remains the Square's centerpiece.
Washington Square is also home to Philadelphia's only Moon Tree. Carried as a seed by Astronaut (and former Forest Service smoke jumper) Stuart Roosa on Apollo XIV, this Sycamore was planted in Washington Square on May 6, 1975. For more information on Moon Trees, visit the
NASA Moon Tree web page
. Since taking ownership of Washington Square in 2005, the National Park Service has cared for this tree. We now have plans to replace the ailing tree with a clone grown by
Morris Arboretum
of the University of Pennsylvania. The planting will be held on September 24, 2011.
Washington Square has many moods. It can be a delightful as well as a solemn place. Paths and trees reflect Penn's vision. The memorial to Washington and the unknowns who died during the American Revolution offer an appropriate setting for national ceremonies and commemorations. A statue of the most famous American, George Washington, stands near the Square's center. It keeps a vigil at the tomb of an unknown soldier who died during the War for Independence. Revolution linked them in life. This shrine joins them in our memory.
WASHINGTON SQUARE
Community Meeting Information
On Tuesday, November 13, 2007, Independence National Historical Park (INHP) hosted a public meeting to discuss Washington Square. About 50 local residents, business owners and representatives from park partners (including other tourism organizations and non-profit supporters of the park)participated. At the meeting, participants sat in small groups of about 10 people, and were asked to discuss three questions: What attracts you to Washington Square? What are some ideas to better inform and engage neighbors and visitors? How do you use the Square, how would you like to use the Square? Each group had a facilitator and a note-taker.
Washington Square Community Meeting
Invitation
,
Handout
&
Summary
.
The Issue of Homelessness and Washington Square
We recognize that homelessness is a serious issue in the City of Philadelphia and that there are a number of homeless people who seek shelter in Washington Square. National Park Service Law Enforcement Rangers are trained to respond appropriately to this situation. We understand the importance and urgency of this issue, and we will continue to do our best to provide a safe and clean environment in the square for all of our visitors. We ask all of our visitors not to interact directly with the homeless in Washington Square. If a problem arises, please contact:
Independence National Historical Park, Dispatch Services, 215-597-7077
-- or --
Project Home, 215-232-1984 or www.projecthome.org
It is the desire of the National Park Service to assist those in need of available social services. For example, NPS Rangers work to connect the homeless with agencies that can assist in locating appropriate housing and medical care.
NPS rangers respond to citizen complaints and to observations made while on routine patrol. Sometimes rangers observe obvious medical conditions or injuries, which may result in the removal of the individual to a hospital or other medical facility. Sometimes rangers responding to a citizen complaint do not observe any criminal activity or unsafe conditions. On these occasions, the ranger has a number of responses at her or his discretion and the authority to determine the best course of action.
The law enforcement division of Independence National Historical Park works closely with Project Home. Project Home can be reached at: 215-232-1984 or on-line at
www.projecthome.org
Did You Know?

Invited by Congress in 1824, Marquis de Lafayette toured the United States, greeted by crowds and parades. "The Hall of Independence" was fitted up "in the most splendid manner." The event inspired the phrase "Hall of Independence," thought to be the precursor of today's Independence Hall.