Dolley Todd House
The Dolley Todd House is currently closed. The building will be open for tours from June 28 to September 1. Free tickets (limited quantity) are required. Sign up at the ranger's desk in the Independence Visitor Center at 6th and Market Streets on the morning of your visit.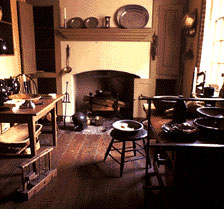 NPS photo
Located at on the northeast corner of 4th and Walnut Streets, the Todd House was built in 1775. It was occupied from 1791 -1793 by lawyer John Todd, and his wife Dolley Payne. Todd died during the 1793 yellow fever epidemic. Following her husband's death, Dolley married James Madison, later to become the fourth President of the United States. The couple subsequently moved to the Madison estate in Virginia. The Todd House reflects the lifestyle of 18th century Philadelphia's middle class.
Did You Know?

Did you know Benjamin Franklin had a pet angora cat? When it died, he asked artist and natural historian Charles Willson Peale to preserve it through a taxidermy process.