Dolley Todd House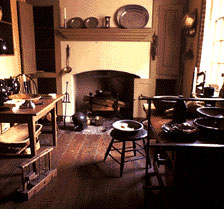 Try our new Independence National Historical Park Cell Phone Audio Tour! Call 267-519-4295,
press Prompt #25
for Dolley Todd, Bishop White and Dock Creek information. Read the
press release
and
flyer with stops
and other park sites.
Located at on the northeast corner of 4th and Walnut Streets, the Todd House is open by tour only. Free tickets are available on the day of your visit at the Independence Visitor Center located on the corner of 6th and Market Streets. Tours are limited to 10 people, and tickets are distributed on a first-come, first-served basis. The tour takes approximately one hour and includes the Bishop White House. Built in 1775 it was occupied from 1791 -1793 by lawyer John Todd, and his wife Dolley Payne. Todd died during the 1793 yellow fever epidemic. Following her husband's death, Dolley married James Madison, destined to become the fourth President of the United States. The couple subsequently moved to the Madison estate in Virginia. The Todd House reflects the lifestyle of 18th century Philadelphia's middle class.
Did You Know?

Did you know Benjamin Franklin had a pet angora cat? When it died, he asked artist and natural historian Charles Willson Peale to preserve it through a taxidermy process.