School, Groups and Organized Tour ticket information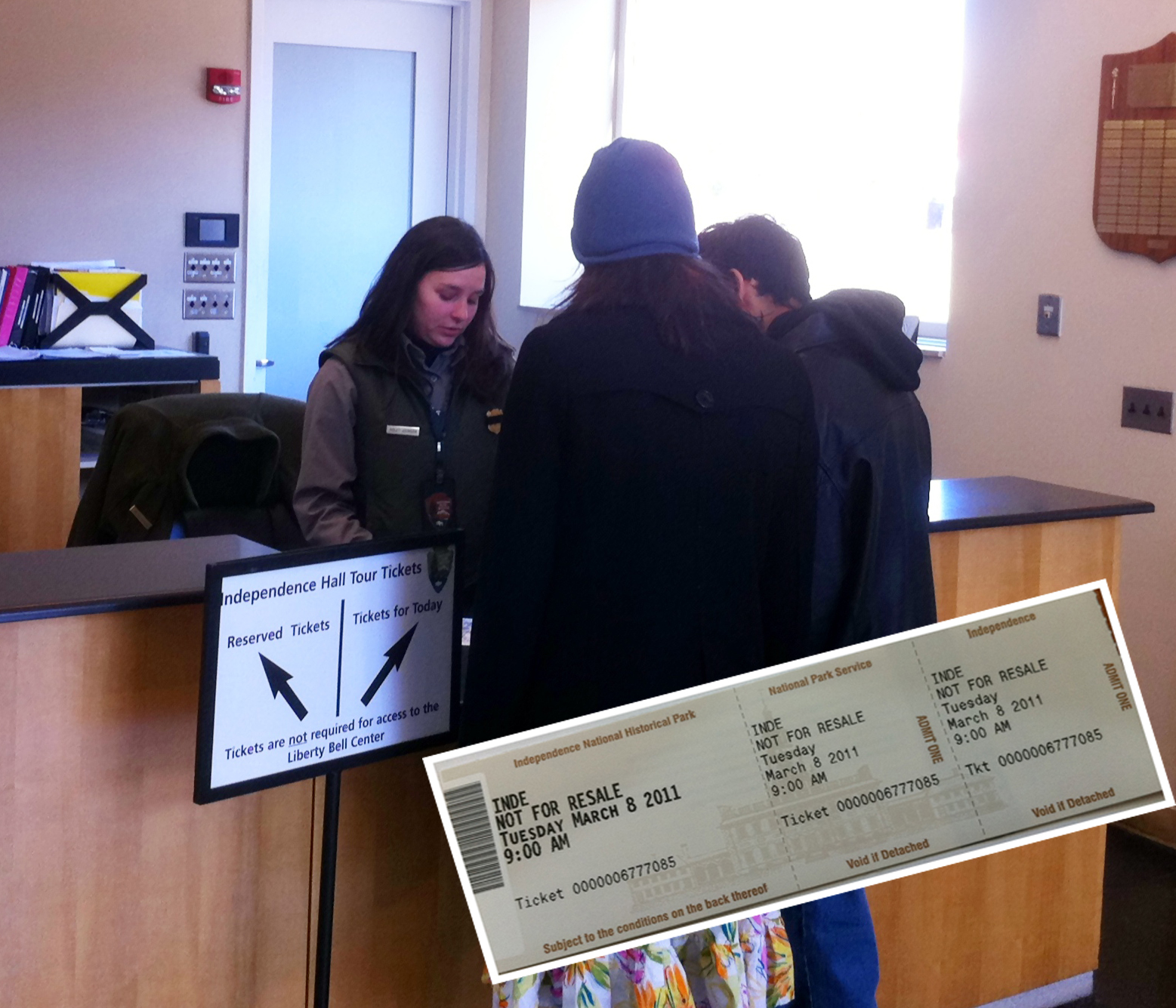 Teachers, your students can help us preserve the historic buildings! Please remind them that no gum, candy, food or beverages are permitted in the buildings. Refraining from using cell phones inside the buildings or during the presentations helps the park rangers provide a great educational experience.

Teachers: planning a field trip? Click here for a list of our FAQs (frequently asked questions).
Walk-Up Tickets are available for free on the morning of your visit at the Independence Visitor Center at 6th and Market Street starting at 8:30 AM. The first tour starts at 9:00AM. You may request tickets for any available time, on the day of the visit. You have the greatest choice of times if you arrive between 8:30 and 10:30 AM. During the busy season, tickets are often gone by 1:00 PM.
Organized tours or school groups may obtain tickets for their entire group. Up to 80 tickets will be given to one teacher or guide. However, you must have confirmation letter on school or organization letterhead for ticket pick up. This letter must list the name of the person authorized to pick up the tickets. Teachers may use a current school ID in lieu of the confirmation letter. To acquire more than 80 tickets, you will need an additional person and letter. While one person is in line for the tickets, we recommend that the rest of the group view the exhibits, see the movies, use the restrooms or visit the store.
Ticket reservations - Tickets may be reserved up to one year in advance through the National Park Reservation system. You may call (1-877-444-6777 or 1-877-559-6777 for group sales) from 10AM to 12 Midnight Eastern Time or you can use the website at recreation.gov. While tickets to Independence Hall are free, the reservation fee is $1.50 per ticket. The Golden Eagle or National Park Pass does not cover this fee. Teachers or tour leaders may reserve up to 80 tickets on each call, and families may reserve up to ten (10) tickets per call.
Did You Know?

From 1790 to 1800 Philadelphia was the Capital of the United States. During that time, city, county, and state government offices were all on the same block of Chestnut Street, between 5th and 6th.