National Park Week 2013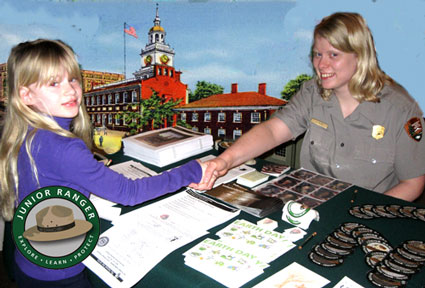 nps
Who were some of the
Heroes of the Underground Railroad?
Pick up your first
Trading Card
at the Independence Visitor Center at 6
th
& Market Street to find out. Add to your collection by visiting other sites in the park. See a Park Ranger at the Visitor Center for details.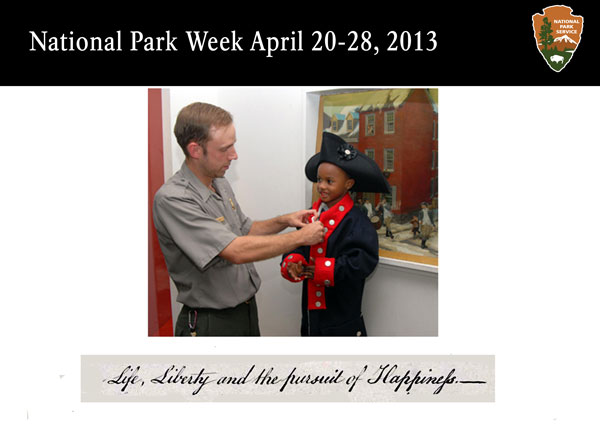 National Park Week & Junior Ranger Day Programs & Activities 2013
Theme: Visit Independence National Historical Park in your Pursuit of Happiness.
In his Declaration of Independence, Thomas Jefferson wrote of "….life, liberty and the pursuit of happiness." We invite children of all ages to pursue their happiness by participating in special programs as we celebrate National Park Week (April 20-28) and Junior Ranger Day (April 20th). Families will be invited to write a poem, plant a seed, play colonial games, go bird watching and learn about the history of the United States and its environment.
Objective: Provide activities for children of all ages to enjoy throughout the park.
National Park Service films will be featured all week in the Independence Visitor Center from Saturday, April 20th to Sunday, April -28th
These films include: This Is America's National Parks (44 minutes); as well as The National Park Service's Untold Stories which include: City Kids (13 minutes); Manzanar (14 minutes); Mount Rushmore (9 minutes); San Antonio Missions (12 minutes); and Yosemite's Buffalo Soldiers (11 minutes).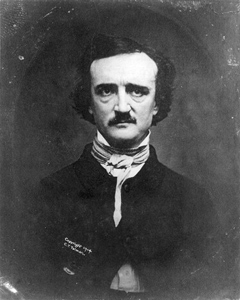 nps
Programs during National Park Week:
Poe's First Love: Poetry A Park Ranger will present a program about Edgar Allan Poe . It will include a biography about Poe's life, famous writings and brief recitations of his poetry. Children of all ages are encouraged to learn about poetry and write some poems of your own. Saturday, April 20th & Saturday, April 27th at 3:00pm at the Portrait Gallery in the Second Bank. (30 minutes)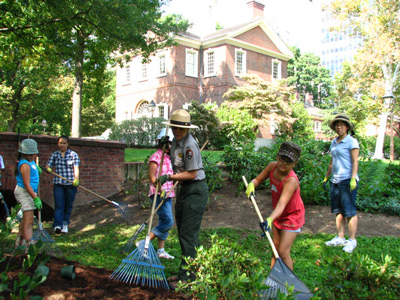 nps
Tilling Freedom's Soil - The Roots of Gardening at IndependenceNational Historical Park A Park Ranger will present an illustrated program that explains gardens in Philadelphia from the 18th century to today offer a connection to nature that soothes the soul. Sunday, April 21st & Sunday, April 28th at 3:00pm at the Portrait Gallery in the Second Bank. (30 minutes)

nps
In Pursuit of a Trade- Apprenticeships were sometimes the only way a child could learn a skill or a trade in the 18th century. Ben Franklin was an apprentice to his brother James in Boston. Find out what Ben did to learn this trade by meeting a Park Ranger in the Printing Office at Franklin Court at 11:30 am Saturdays & Sundays, April 20th & 21st & April 27th & 28th. (10 minutes)
The House that Ben Built- Ben Franklin was proud of the improvements that he made to one of his properties at 318 Market Street. The people who rented from him left behind artifacts about their daily lives. Your goal is to find the artifacts and explain how they were used. Obtain a clue sheet from the Ranger and explore the house. Wed, Thurs & Fri 12:00pm-4:00pm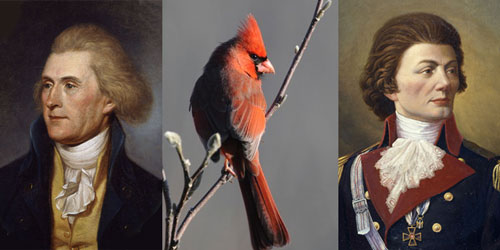 NPS
Jefferson in Philadelphia Meet a Park Ranger in the Declaration House and learn about the "pursuit of happiness" in a 15-minute program 1:00pm Wed,Thurs & Fri
Birds of Independence-How many different species of birds can you find within Independence National Historical Park? Pick up a Bird Count Sheet at the Independence Visitor Center on Sunday, April 21st and Saturday & Sunday April 27th & 28th 8:30am-6:00pm. Explore the park and bring the sheet back to the Independence Visitor Center when you are finished. Earn some Trading Cards for finding the many varieties of birds, who visit the park just like you.
Kosciuszko Junior Ranger Program-Visit the residence of Thaddeus Kosciuszko, the military hero who helped the United States in the American Revolution. He also fought czarist Russia for his native Poland and was wounded. Pick up a Junior Ranger booklet at the Kosciuszko National Memorial site, visit the house and earn a Junior Ranger badge! Open Saturdays & Sundays 12:00pm-4:00pm.
Did You Know?

Did you know Benjamin Franklin had a pet angora cat? When it died, he asked artist and natural historian Charles Willson Peale to preserve it through a taxidermy process.