Lodging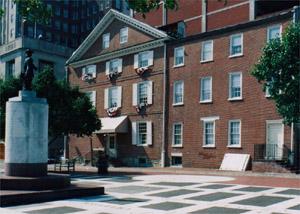 Thomas Bond House - Step into the 18th century in this exquisitely restored 1769 Bed and Breakfast gem. On the National Historic Register of Historic Places, this certified historic restoration bed and breakfast is the only lodging located within Independence National Historical Park.

Also, a listing of accommodations in the Philadelphia area can be found via the Independence Visitor Center website! or call 215-925-6101.
Did You Know?

Did you know the Liberty Bell first went on public exhibit in 1852. At that time, the Bell was moved out of the Independence Hall tower storage room and down into the building's first floor Assembly Room, the room where the Declaration of Independence and the United States Constitution were signed.