For Kids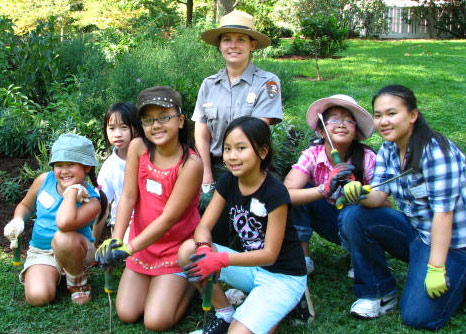 nps
Junior Ranger Program: Children visiting Independence National Historical Park can become a Junior Ranger online and/or by picking up a Junior Ranger Activity Book with activities for children ages five and up from the Independence Visitor Center (corner of 6th and Market Streets) or downloading it from this site. Participants who attend at least one ranger program and complete five activities will earn a Junior Ranger badge. Activities are related to locations throughout the park and include word scrambles, dot-to-dot, bingo, matching and more... as well as activities to do at home.

For Kids Pages
History trading cards
Independence Visitors Center, Films "Choosing Sides"

"Seizing Freedom" Exhibit - Learn about the Underground Railroad.
"Junior Ranger Induction Ceremony"

Second Bank Portrait Gallery, (Chestnut Street between 4th and 5th Streets)
Hidden History
Portrait Gallery in the Second Bank - Chestnut Street between 4th & 5th. Ask a Park Ranger for a card. Kids follow clues to uncover the special people in the exhibit, then get a reward.
"Moses Williams: Cutter of Profiles"
Portrait Gallery in the Second Bank - Chestnut Street between 4th & 5th Street. Hear the amazing story of Moses Williams who learned to operate the Physiognotrace to earn his freedom and a good living making silhouettes in Peale's Museum.
Printing Office Franklin Court Between 4th & 3rd Street 18th century printing press demonstrations,

New Hall (Military Museum) Located on Chestnut Street, between 3rd & 4th Streets)

Did You Know?

The Liberty Bell weighs 2,080 pounds, is made of bronze, its strike note is an E-flat, and that the large "crack" is actually a repair. This large "crack" and the inscription around the top "Proclaim Liberty" has made the Bell an international symbol of freedom.