Cell Phone program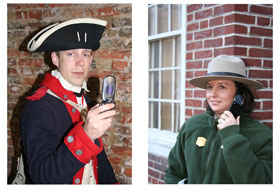 nps
Independence National Historical Park is pleased to announce a new cell phone program. By dialing 267-519-4295 visitors are able to listen 24/7 to the stories our buildings tell. Park Rangers briefly explain the history behind the Liberty Bell, Independence Hall, Washington Square and the other park buildings. Designed to be user friendly and flexible, visitors may access the stops in any order or go in sequence for a tour of the park. Small signs are posted around the park with the numbers of the buildings from 10 to 31.
The cell phone program is provided by OnCell Systems of Pittsford, NY and calls to this local Philadelphia number (267-519-4295) are free except for air time on your cell phone. Visitor contributions to the park donation boxes are being used to fund this program.
Cell Phone tour "Ring up History" (PDF pages can be printed or downloaded to a smart phone for use at the Park)
Cell Phone Program Information

Location

Prompt #:

Site(s)

6th & Market Sts.

10

Independence Visitors Center

11

President's House Site
& Archeological Dig

12

Liberty Bell Center

5th & Chestnut Sts.

13

Independence Hall

14

Great Essentials Exhibit in the West Wing

15

Congress Hall

16

Old City Hall

17

APS Museum, Library Hall

18

Washington Square &
Tomb of Unknown Soldier of the American Revolution

7th & Market Sts.

19

Declaration House

6th & Arch Sts.

20

National Constitution Center

5th & Chestnut Sts.

21

Portrait Gallery in Second Bank

321 Chestnut St.

22

Franklin Court & Museum,

221

Glass Armonica music

314-322 Market St.

23

Franklin's Market Street Houses
(Printing Office, Archeology, Post Office, Store)

320 Chestnut St.

24

Carpenters' Court- Carpenters' Hall,
(New Hall & Pemberton House)

4th & Walnut Sts.

25

Dolley Todd & Bishop White Houses (Dock Creek)

3rd & Chestnut Sts.

26

First Bank of the United States

27

Independence Living History Center
& Independence Park Institute

3rd & Walnut Sts.

28

Merchants Exchange Building

29

City Tavern,
(Welcome Park & Bond House)

30

Kosciuszko National Memorial

7th & Spring Garden Sts.

31

Edgar Allan Poe National Historical Site

Did You Know?

Did you know Gouverneur Morris, a signer of the Constitution and author of its preamble lost his leg in a carriage accident on Philadelphia's Dock Street in 1780?