Old City Hall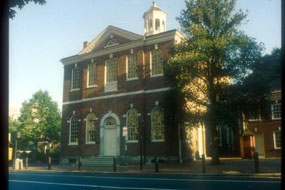 Try Independence National Historical Park Cell Phone Audio Tour! Call 267-519-4295, press Prompt #16 for Old City Hall information. Read the flyer with stops.

Located on the corner of Chestnut and 5th Streets, Old City Hall is open year round, with hours varying by season. Visitors are admitted free of charge on a first-come, first-served basis. A portion of the building serves as the security screening entrance onto Independence Square. Ranger led programs are offered. Built as the City Hall of Philadelphia, the building was used by the U. S. Supreme Court from the time the building was completed in 1791 until 1800 when the Federal Government was moved to Washington D. C.. The municipal government and courts occupied the building during the 19th century.
Did You Know?

George Washington, the nation's first president, ran his two administrations in Philadelphia from his rented house near the corner of Sixth and Market Streets. Wife Martha, two young grandchildren and as many as 24 servants, including enslaved men and women from Mount Vernon, made up his household.