Old City Hall
Old City Hall will be closed in January and February 2014. The building will reopen in March 2014.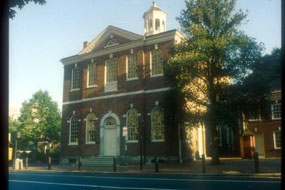 NPS photo
Built as the City Hall of Philadelphia, the building was used by the U. S. Supreme Court from the time the building was completed in 1791 until 1800 when the Federal Government moved to Washington D. C.. The municipal government and courts occupied the building during the 19th century. Visitors today see the restored courtroom.
Did You Know?

The exhibits in the Liberty Bell Center showcase the Liberty Bell's role as a symbol in the abolitionist movement, the fight for women's suffrage and the Civil Rights struggles of the 1960's.