New Hall Military Museum
The New Hall Military Museum is currently closed.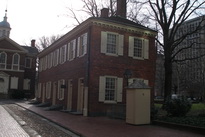 NPS photo
The museum is located in Carpenters' Court, along Chestnut Street between 3rd and 4th Streets. This building is a reconstruction of the one constructed by the Carpenters' Company in 1791 and originally used to house the office of the first Secretary of War, Henry Knox, and his staff. The building currently houses exhibits highlighting the founding of the United States Marine Corps and the Army and Navy Departments from the American Revolution through the last decades of the 18th century.
Did You Know?

Did you know the Army, Navy and Marine Corps were founded at Independence Hall throughout the year 1775? The Continental Congress passed resolutions founding the Continental forces in June, October and November of 1775.