Independence Hall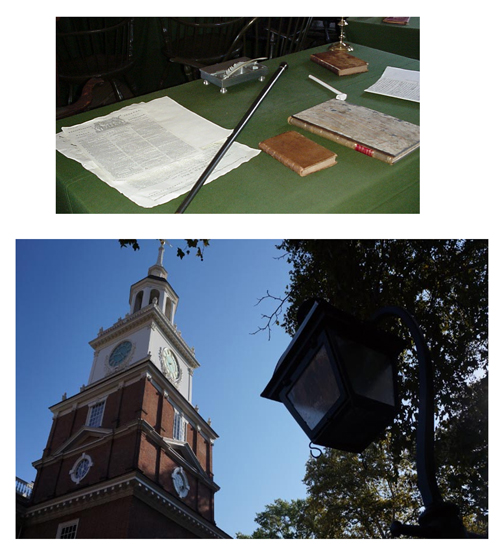 Independence Nat'l Historical Park
Located on Chestnut Street between 5th and 6th Streets. The building is open year round, though hours vary by season.
Visitors are admitted free of charge by tour only, with tours beginning in the East Wing. Visitors need a free timed ticket for the Independence Hall tours from March through December.

Printed materials are available on request in 8 foreign languages (Chinese, French, German, Hebrew, Italian, Japanese, Spanish, Russian).
Constructed between 1732 and 1756 as the State House of the Province of Pennsylvania, it is considered a fine example of Georgian architecture. From 1775 to 1783 (except for the winter of 1777 - 1778 when Philadelphia was occupied by the British Army) this was the meeting place for the Second Continental Congress. It was in the Assembly Room of this building that George Washington was appointed commander in chief of the Continental Army in 1775 and the Declaration of Independence was adopted on July 4, 1776. In the same room the design of the American flag was agreed upon in 1777, the Articles of Confederation were adopted in 1781, and the U. S. Constitution was drafted in 1787. The building, inside and out, has been restored whenever possible to its original late-18th century appearance. Most of the furnishing are period pieces. The "rising sun" chair used by George Washington as he presided over the Constitutional Convention is original.
Declaration of Independence|Text
Experience the history of the Declaration of Independence and learn about the people who shaped its famous words (download PDF )
US Constitution|Text | Interactive Constitution
Liberty Bell
Preserving the Tower of Independence Hall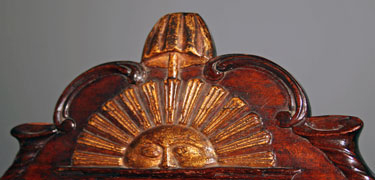 Independence Nat'l Historical Park
The Rising Sun Chair, Inside Independence Hall
"Whilst the last members were signing [the Constitution], Doctor Franklin, looking towards the Presidents chair, at the back of which a rising sun happened to be painted, observed to a few members near him, that painters had found it difficult to distinguish in their art, a rising, from a setting, sun. I have, said he, often and often, in the course of the session, and the vicissitudes of my hopes and fears as to its issue, looked at that behind the President, without being able to tell whether it was rising or setting; but now at length, I have the happiness to know, that it is a rising, and not a setting sun. " - BENJAMIN FRANKLIN, debates in the Constitutional Convention, Philadelphia, Pennsylvania, September 17, 1787.James Madison, Journal of the Federal Convention, ed. E. H. Scott, p. 763 .
Did You Know?

In the summer of 1793 "ten thousand people in the streets of Philadelphia …  threatened to drag Washington out of his house, and effect a Revolution in Government" but an outbreak of yellow fever dispersed the mob and saved the national government. (J Adams to T Jefferson, June 30, 1813)