James Dexter Site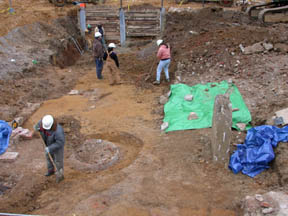 NPS Photo
Stewardship of the James Dexter Site:
The Context for Decision Making on the Excavation of an Important Archeological Site
James Dexter, a free African American, lived in a small house that fronted on North Fifth Street approximately midway between Arch and Race Streets in the years from about 1790 until 1798. This site today lies within the boundaries of Independence National Historical Park on the third and most northerly block of Independence Mall where the National Constitution Center is located, a block that will be referred to in this document as Block 3. Block 3 is bounded on the north by Race Street, on the south by Arch Street, and is bounded on the east and west by North Fifth and North Sixth Streets.
The current effort to redevelop Independence Mall calls for the construction of the Independence Mall Transportation Center, a bus drop-off area, over the James Dexter site and adjacent historic lots.
Archeology and the National Constitution Center
Decision to Preserve the Dexter Site
Consultation Leads to Reevaluation of Dexter Site
Did You Know?

Thomas Jefferson wrote the rough draft of the Declaration in only a few days? He spent a period of two weeks refining it and even gave a copy to John Adams and Benjamin Franklin for their review.