Excavation of Dexter Site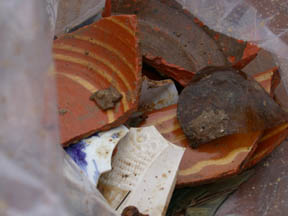 NPS PHOTO
Documentary records indicate that the house that James Dexter lived in from 1790 until 1798 was built by Ebenezer Robinson. Robinson built the house in about 1790 or 1791. During the latter year, Robinson insured the building, described as a "very plain" two-story house, which sat on a 20 by 80-foot lot directly to the north of Robinson's own residence. An 1857 insurance atlas indicates that by that date the Dexter home had been replaced by a larger structure. Demolition drawings prepared in 1958 for construction of Independence Mall indicate that by that date most of the Dexter lot was occupied by four-story buildings with excavated basements. These later construction activities, along with the installation of a landscape wall for the Mall, are likely to have substantially disturbed any existing foundations and the backyard areas of the Dexter home site. The extent of this disturbance will be assessed during the first phase of archaeological excavation of the lot. The goal will be to identify any archeological features and deposits that might have survived on the site.
This initial excavation will procede using heavy equipment and hand labor to remove demolition rubble and fill that covers the site. Excavation will encompass the full extent of the historic lot that is today within the NPS property line. Approximately the eastern 13 feet of the historic lot are now under the pavement of North Fifth Street and are on city property. Thus, this portion of the site is not available for excavation.
Features and deposits exposed following removal of this fill material will be mapped and, where possible, tested. If archaeological evidence of Dexter's occupation is identified, a plan will be developed to recover these resources. If, however, no significant archeological resources relating to the Dexter occupation are identified, then excavation will halt after completion of the exploratory phase. Regardless of results, the representatives of St. Thomas and Mother Bethel Churches will be briefed following the exploratory phase on findings and consulted on any further steps proposed.
Following the completion of the excavation of the Dexter home site, all recovered artifacts and data will be studied and a report on the excavation and its finding will be issued. Only after analysis of the excavation results can we fully understand what, if any, clues the site holds about the Dexter household.
Did You Know?

Thomas Jefferson wrote the rough draft of the Declaration in only a few days? He spent a period of two weeks refining it and even gave a copy to John Adams and Benjamin Franklin for their review.