Who was James Dexter?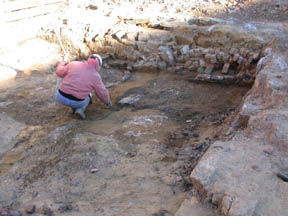 NPS Photo
The excavation of the site of the National Constitution Center has revealed a great deal about the lives of Philadelphians from diverse classes, ethnicities and races. One of the persons who lived in this location was James Dexter.
James Dexter had spent his early years in bondage and carried the slave name of "Oronoko" (historic documents represent this name with various spellings). Despite efforts by researchers inside and outside the NPS little information has come to light about Dexter's early years. Nothing is known of the circumstances of his birth. Indeed, both the place and date of his birth remain obscure. The earliest record that has yet come to light relating to Dexter's life is the 1749 will of Henry Dexter. The estate of Henry Dexter transferred, by this will, an enslaved child or young man (his age is not given in the document) named "Oronoco" to James Dexter, Henry's son and heir. According to a certificate attesting to James Oronoko Dexter's freeman status filed with the Pennsylvania Abolition Society in 1787 James Oronoko Dexter was hired out to a Philadelphia tavern keeper for at least a portion of time that he was held in bondage by James Dexter. James Dexter died in debt and the trustees of his estate granted freedom to James Oronoko Dexter (referred to in the document as "Oronoke royal Slave") in 1767 in exchange for compensation of one hundred pounds paid to the estate.
The Abolition Society certificate also testifies to James Oronoko Dexter's successful efforts to secure release from bondage for a woman he wished to marry. The signers of the certificate were two prominent Quakers who both expressed admiration for James Oronoko Dexter's character. One of the signers, Isaac Zane, noted Dexter's "humanity in assisting and relieving those of his own colour". James Pemberton, the second signer, also noted that Dexter was employed in the household of his brother John Pemberton.
John Pemberton was a wealthy merchant and an active Quaker minister. John and James Pemberton, along with their brother Israel, were active supporters of the early Quaker led efforts to abolish the slave trade. Upon his death during a religious mission to Germany in 1794, John Pemberton left a bequest to Dexter in his will. The gift amounted to 50 pounds a year to be provided by the Pemberton estate while Dexter lived. Significantly, this bequest came in the form of an original gift of 35 pounds contained in the body of the will, supplemented by an additional bequest of 15 pounds a year stipulated in a short codicil to the will which was drafted while Pemberton lay on his death bed in Germany.
Dexter's active involvement in efforts on behalf of Philadelphia's free black community are highlighted by another entry in Pemberton's will. The personal bequests contained in the will were accompanied by a separate gift to the "Society of Black People for support of the Poor" (probably a reference to the Free African Society) which was to be held in trust by James Oronoko Dexter and Absalom Jones.
We know that Dexter's efforts to aid his community dated to at least as early as 1782. In that year he was one of six of Philadelphia's free blacks who signed a petition addressed to the state government requesting permission to fence the portion of the city's Potters' Field where his fellow blacks were buried. This is one of the first public acts by members of Philadelphia's nascent free black community and was an important step in the community's struggle for autonomy.
Dexter continued his service to the black community while a resident of Block 3 where he worked alongside Absalom Jones and Richard Allen, the two leading figures of the independent black church movement. In 1787 Jones and Allen joined with a small group of ex-slaves and, with the involvement of sympathetic Quakers, formed the Free African Society. The Free African Society was both a mutual aid society and religious organization. Allen had embraced Methodism while still enslaved on a Delaware farm and went on to become an itinerant preacher, traveling widely from South Carolina to New York. In 1786, soon after his arrival in Philadelphia, Allen was appointed to a position as assistant minister at St. George's Methodist Church. Absalom Jones' roots were also in Delaware, where he had been born into slavery. Through his own efforts Jones secured an education. In1762 the planter who held Jones in bondage relocated to Philadelphia, taking only young Absalom with him after selling Jones' mother and siblings. In Philadelphia Jones married and then worked successfully to secure, through purchase, freedom for his new wife. After assuring a life of freedom for his wife, Jones went on, in 1784, to secure that same blessing for himself. In Philadelphia, St. George's Methodist Episcopal Church had developed a substantial black membership which came to hear Richard Allen preach. Absalom Jones, too, joined St. George's where he served as a lay minister.
The desire on the part of Philadelphia's emerging black community for an independent church grew out of a hunger for autonomy and self-reliance. Along with the need to fashion a form of religious expression that addressed the values and experience of the group's members, there was also a desire to escape the indignities and injustice at the hands of a white religious hierarchy with congregations which were, at best, patronizing and often hostile. The Free African Society, under the guidance of Richard Allen and Absalom Jones, began the work of building an independent black church in 1790. These efforts bore fruit four years later when two independent black churches opened their doors for worship. Absalom Jones led a group that founded and built the African Episcopal Church of St. Thomas. Richard Allen and his followers founded what became known as Mother Bethel Church, the founding congregation of the African Methodist Episcopal Church.
Key events in the founding of St. Thomas Church occurred in the home of James Dexter on Block 3. On December 12, 1792, for instance, an organizational meeting for the new church was held in his home. Dexter was an active member of the building committee and served on the vestry.
Dexter continued to live at the house on North Fifth Street until 1798. The city directories for the years 1794-1798 list Dexter's residence at that address and give his occupation as coachman. The 1798 directory listing is the latest dating reference to James Dexter which has come to light. As with his birth, the circumstances and date of his death are unknown.
Research on the life of James Dexter is on-going. The NPS wants to join together with those individuals and institutions that have gathered information pertaining to Dexter's life and accomplishments. In particular, original records in the St. Thomas Church archives could prove invaluable in filling gaps in Dexter's biography helping the NPS to better understand Dexter's life and community.
Did You Know?

Dolley Todd had to write a letter to the orphan court to keep her son when, her first husband John died of Yellow Fever in 1793. In 1794, she married Congressman James Madison.