Declaration House
The Declaration House is currently closed.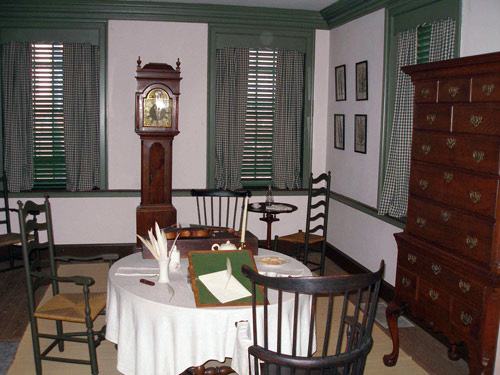 NPS photo
The Declaration House, located on the southwest corner of 7th and Market Streets, was reconstructed in 1975. The house was originally built in 1775 by Philadelphia bricklayer Jacob Graff, Jr. During the summer of 1776, Thomas Jefferson, a 33-year-old delegate from Virginia to the Continental Congress, rented the two second-floor rooms. There he drafted the Declaration of Independence. The first floor contains exhibits and a short film on the drafting of the Declaration. On the second floor, the bedroom and parlor that Jefferson occupied have been recreated and contain period furnishings. Also included are reproductions of Jefferson's swivel chair and the lap desk he used when he wrote the Declaration of Independence.
Did You Know?

The Continental Navy Jack, designed for Commodore Esek Hopkins during the American Revolution, is still in use today. The Secretary of the Navy reauthorized its use on all Navy ships in 2002. The flag is 13 alternating red and white stripes with "Don't Tread On Me" snake.