Declaration House
From June 28 through September 30, the Declaration House will be open for the "Jefferson in Philadelphia" house tour at 10am and 4pm daily. Meet a park ranger in the courtyard at the site on 7th Street near Market Street. The tour is limited to 15 people. The Declaration House will be closed October through December.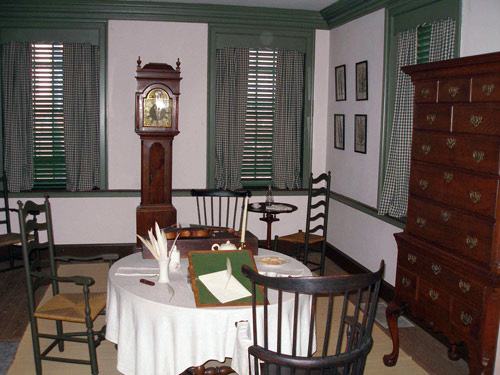 NPS photo
The Declaration House, located on the southwest corner of 7th and Market Streets, was reconstructed in 1975. The house was originally built in 1775 by Philadelphia bricklayer Jacob Graff, Jr. During the summer of 1776, Thomas Jefferson, a 33-year-old delegate from Virginia to the Continental Congress, rented the two second-floor rooms. There he drafted the Declaration of Independence. The first floor contains exhibits and a short film on the drafting of the Declaration. On the second floor, the bedroom and parlor that Jefferson occupied have been recreated and contain period furnishings. Also included are reproductions of Jefferson's swivel chair and the lap desk he used when he wrote the Declaration of Independence.
Did You Know?

Did you know Benjamin Franklin is accredited with being the first American to invent a musical instrument? He invented the glass armonica in 1761 after seeing wine glasses being used to make musical sounds.