Declaration House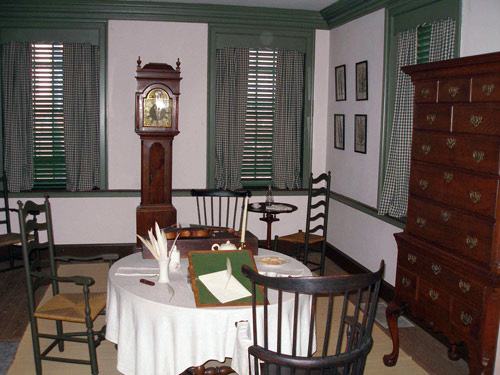 Locate on google maps
701 Market Street
The Declaration House, located on the southwest corner of 7th and Market Streets, was reconstructed in 1975. The exhibit is open year round, though hours vary by season.The house was originally built in 1775 by Philadelphia bricklayer Jacob Graff, Jr. During the summer of 1776 Thomas Jefferson, a 33-year-old delegate from Virginia to the Continental Congress, rented the two second-floor rooms and there drafted the Declaration of Independence. The first floor contains exhibits and a short film on the drafting of the Declaration. On the second floor, the bedroom and parlor that Jefferson occupied have been recreated and contain period furnishings. Also included are reproductions of Jefferson's swivel chair and the lap desk he used when he wrote the Declaration.
Jefferson's rough draft of the Declaration of Independence

Try Independence National Historical Park Cell Phone Audio Tour! Call 267-519-4295, press Prompt #19 for Declaration House information. Read the press release and flyer with stops and other park sites.
Did You Know?

Many American patriots owned slaves before, during or after the Revolution. Here are a few you might know: George Washington, Thomas Jefferson, Benjamin Rush, James Madison, Robert Morris, and James Wilson. Many of them spoke out against slavery, but only Washington freed 124 people by his will.