Benjamin Franklin National Memorial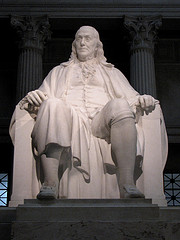 The Benjamin Franklin National Memorial, a 20' statue of Ben Franklin, resides within the Franklin Institute. Sculpted by James Earle Fraser from 1906 to 1911, the statue of our former statesman, writer, and inventor weighs an impressive 30 tons and is seated on a 92-ton pedestal of white Seravezza marble. Dedicated in 1938 and designated a national memorial in 1972, it serves as the focal point of the Memorial Hall, which was designed by John T. Windrim. The Hall itself is 82' in length, width, and height, with a 1600-ton domed ceiling, and marble walls, ceilings, and columns.
Interestingly enough, the Benjamin Franklin Memorial has not been placed on the National Register of Historic Places; it is actually affiliated with the National Park Service, as is the Franklin Institute. Grants are made available to the Institute through the Department of the Interior for the upkeep and addition of exhibits to the Memorial. (Note: Free admission to Memorial Hall.)
Did You Know?

Did you know Benjamin Franklin had a pet angora cat? When it died, he asked artist and natural historian Charles Willson Peale to preserve it through a taxidermy process.