Advance Ticket Information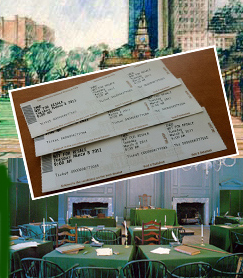 In planning your visit to Independence National Historical Park during March through December, we recommend that you reserve your Independence Hall tour tickets in advance online or by phone.No tickets are needed in January and February.

Ticket Reservations - Tickets may be reserved up to one year in advance through the National Park Reservation system.

In advance reservations:
Visit www.recreation.gov There is a $1.50 per ticket surcharge charge when you order online or by Phone.
By Phone: You may call from 10AM to 10 PM Eastern Time.

Call 1-877-444-6777 Individuals and families
Call 1-877-559-6777 Group sales
Call 1-518-885-3639 International Calls
The Golden Eagle or National Park Pass does not cover this fee.
Teachers or tour leaders may reserve up to 80 tickets on each call, and families may reserve up to ten (10) tickets per call.

Reserved tickets must be picked up at the "Will Call" section of the NPS ticket counter at the Independence Visitor Center (6 th & Market Sts.) You must claim them (using reservation number and valid identification) at least 45 minutes before the tour on the day of your visit. The "Will Call" section is to the left at the desk. You do not need to wait in the walk-up ticket line. Tickets not picked up 45 minutes before the tour may be released to walk-up visitors. Refunds are only available if the Park cancels a tour. No refunds are given at the Park
Did You Know?

Many American patriots owned slaves before, during or after the Revolution. Here are a few you might know: George Washington, Thomas Jefferson, Benjamin Rush, James Madison, Robert Morris, and James Wilson. Many of them spoke out against slavery, but only Washington freed 124 people by his will.