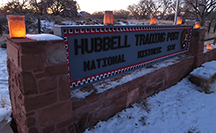 NPS Photo MKlozik
Luminaria Night at Hubbell
December 3, 2015

Don Lorenzo Hubbell can trace his maternal roots to a prominent Spanish Family (Gutierrez) in Parajito New Mexico. As with all families, tradition was strong and is still today. Since the early 1990s Hubell Trading Post NHS has honored this by lighting luminarias at the beginning of December.
Luminaria is a small paper lantern (candle set in some sand inside a paper bag) which is of significance in New Mexico and Southwest United States. Today, electrically-lit luminarieas are used on top of the buildings at Hubbell Trading Post and paper lantern line the dirt road to guide our neighbors and visitors to a night of festive gathering.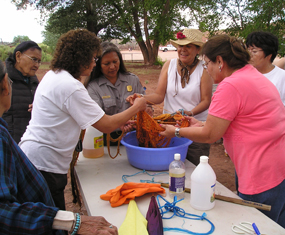 NPS Photo
SHEEP, WOOL, AND WEAVING WORKSHOP
July 2016
Hubbell Trading Post National Historic Site will host Sheep,Wool and Weaving workshop. The Sheep, Wool, and Weaving Workshop began in 2000 to bring producer/livestock education, fiber arts and animal husbandry experiences into the local Navajo communities and to share the knowledge with other interested visitors. At the Hubbell workshop you will learn the role Churro sheep play in Navajo culture and meet the Hubbell Trading Post NHS Navajo Churro sheep. Hands-on learning will include, dyeing, spinning, and weaving.

We encourage you to bring your projects and wool to dye or share with other participants.

Photo by Ann Smith
Native American Arts and Crafts Auction
May and September 2016
Friends of Hubbell Trading Post NHS will conduct two auctions at Hubbell Trading Post in 2016. Auctions will be held on Saturday, May and September 2016. Only authentic Native American rugs, Katsina dolls, jewelry, pottery, paintings, and other craft items will be accepted into the auction. Approximately 450 items will be accepted into each auction for sale. Intake of auction items begins three days prior to each auction from 8:00 AM to 6:00 PM Wednesday, 8:00 AM to 5:00 PM on Thursday, and 8:00 AM to 12:00 PM on Friday at Hubbell Trading Post. On auction day, items for sale may be previewed from 9:00 AM to 11:00 AM in the auction tent with the auction starting at Noon Daylight Saving Time. All forms of payment are accepted by buyers. There is no entrance fee, no fee to register as a bidder, and no sales tax is charged on purchases.

Vendor Booths are also available for Native Americans to sell their authentic wares and crafts. Booths may be rented inside the auction tent for $50, and outside of the tent for $40 for the day of the auction from Friends of Hubbell. Food booths are also available for rent on the auction grounds for $40 for the day. Food booths must be approved by the USPHS through application.

These auctions started in1990 by Friends of Hubbell have returned over 2 million dollars into the Native American community through the years. For more information visit www.friendsofhubbell.org