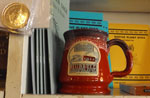 Park Photo, LHenio
So Many Reasons to Celebrate! 50th Anniversary Sale
August 25-28, 2015 In celebration of the 50th anniversary of Hubbell Trading Post as a National Historic Site, as well as the birthday of the National Park Service and the grand opening of our new exhibits, we are having a sale! 15% off all books, t-shirts, and mugs.

To learn more, call 928-755-3254 or go to www.wnps.org

Photo by Ann Smith
Native American Arts and Crafts Auction
September 26, 2015
Friends of Hubbell Trading Post NHS will conduct two auctions at Hubbell Trading Post in 2015. Auctions will be held on Saturday, September 26th 2015. Only authentic Native American rugs, Katsina dolls, jewelry, pottery, paintings, and other craft items will be accepted into the auction. Approximately 450 items will be accepted into each auction for sale. Intake of auction items begins three days prior to each auction from 8:00 AM to 5:00 PM both Wednesday and Thursday,and 8:00 AM to 12:00 PM on Friday at Hubbell Trading Post. On auction day, items for sale may be previewed from 9:00 AM to 11:00 AM in the auction tent with the auction starting at Noon Daylight Saving Time. All forms of payment are accepted by buyers. There is no entrance fee, no fee to register as a bidder, and no sales tax is charged on purchases.

Vendor Booths are also available for Native Americans to sell their authentic wares and crafts. Booths may be rented inside the auction tent for $50, and outside of the tent for $40 for the day of the auction from Friends of Hubbell. Food booths are also available for rent on the auction grounds for $40 for the day. Food booths must be approved by the USPHS through application.

These auctions started in1990 by Friends of Hubbell have returned over 2 million dollars into the Native American community through the years. For more information visit www.friendsofhubbell.org
Luminaria Night at Hubbell

December 3, 2015
Over 700 luminarias will be placed on the grounds of the National Historic Site and with candles lit for this annual holiday celebration. The Spanish words luminaria and farrolito mean little lights or flames. This Hispanic tradition is widely practiced in New Mexico and has been presented at Hubbell Trading Post each December since the early 1990s. Come join us for this festive occasion.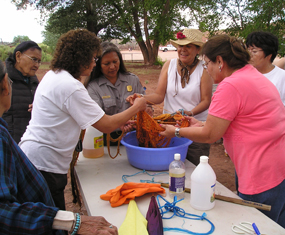 NPS Photo
SHEEP, WOOL, AND WEAVING WORKSHOP
July 2016
Hubbell Trading Post National Historic Site will host Sheep,Wool and Weaving workshop. The Sheep, Wool, and Weaving Workshop began in 2000 to bring producer/livestock education, fiber arts and animal husbandry experiences into the local Navajo communities and to share the knowledge with other interested visitors. At the Hubbell workshop you will learn the role Churro sheep play in Navajo culture and meet the Hubbell Trading Post NHS Navajo Churro sheep. Hands-on learning will include, dyeing, spinning, and weaving.

We encourage you to bring your projects and wool to dye or share with other participants.