Special Events
Photo by Ann Smith.

AUCTION:

NATIVE AMERICAN ART


May 2015

The Friends of Hubbell Trading Post National Historic Site, in partnership with the National Park Service, conduct two Native American Art Auctions at the park each year. The next auction will be in May 2015. Over 400 items will be offered in the auctions including contemporary and antique Navajo weavings, Pueblo Katsina dolls, pottery, paintings, carvings and baskets from several tribes ranging in price from just $20 to over $4000. Each auction will begin at noon, daylight saving time with the preview from 9:00 to 11:00 am.



In addition to the auction the Hubbell family home will be open for tours in the morning and the trading post store will be open throughout the day. Arts, crafts and food vendors will also be open all day for your enjoyment.

The event takes place outdoors in a big tent at the National Historic Site in Ganado, Arizona on Highway 264 (1/2 mile west of Highway 191).
We only accept items from artists who may register their artwork for the auction from 8:00 AM to 4:00 PM; Monday to Thursday. Auction items are registered and sold in numeric order so artists are encouraged to register early to secure low lot numbers. We do not accept items for the auction on Friday and Saturday.

Food and arts and crafts vendors booth reservations must be made in advance. Food booth rentals are $40, Arts and Crafts booths in the tent are $50 and $35 outside of the tent. Vendors are responsible for bringing their own table and chairs. Only authentically handmade Native American art will be accepted in the auction and at the vendor tables.
For more information visit: www.friendsofhubbell.org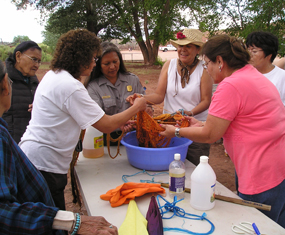 SHEEP, WOOL AND WEAVING WORKSHOP
July 12, 2015
Hubbell Trading Post National Historic Site hosts Sheep, Wool and Weaving workshops each summer. The next workshop will be on July12, 2015.

The Sheep, Wool and Weaving Workshops began in 2000 to bring producer/livestock education, fiber arts and animal husbandry experiences into the local Navajo communities and to share the knowledge with other interested visitors.

At the Hubbell workshop you will learn the role Churro sheep play in Navajo culture and meet the Hubbell Trading Post NHS Navajo Churro sheep. Hands-on learning will include, dyeing, spinning, and weaving.
Bring your wool projects to share with other participants and a picnic lunch to enjoy in the shade of the cottonwood trees.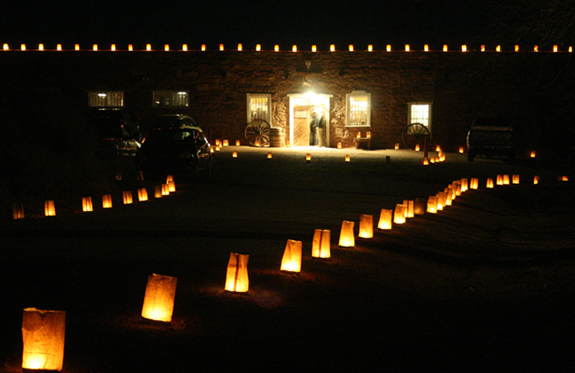 E. Chamberlin
DECEMBER LUMINARIA NIGHT
December 3, 2015
Over 700 luminarias will be placed on the grounds of the National Historic Site and their candles lit for this annual holiday celebration. The Spanish words luminaria and farrolito mean little lights or flames. This Hispanic tradition is widely practiced in New Mexico and has been presented at Hubbell Trading Post each December since the early 1990s.