Fees & Reservations
Tours of the Hubbell Home
Tours are offered throughout each day and limited to 15 people for your personal enjoyment. Check at the visitor center for availability.
Hubbell Home Tours: $2.00 per person, user fee. Visitors 15 years old and younger are free.
User Fees collected will support a variety of resource management, visitor services and historic preservation projects at the park. These projects will enhance your experience and increase your understanding of the significance of Hubbell Trading Post National Historic Site. We appreciate your continued support for the National Park Service and hope your visit here will be a memorable one.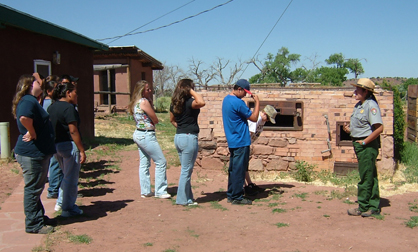 NPS Photo, Naomi Shibata
Commercial Tour Fee
To ensure a tour of the Hubbell home for commercial or other organized tour groups call, write or e-mail to reserve specific tour times. A tour fee of $2.00 per person will be collected from the group. All Hubbell home tours/programs are limited to 15 people per tour. If there are more than 15 people in the group, the group may be divided. Additional tours may be added to accommodate the group.
Contact Ranger Tina Lowe for reservations or if you have any questions, comments, or concerns by calling (928) 755-3475 or e-mail her.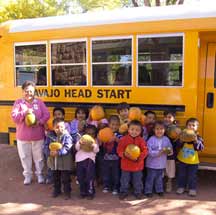 Fee Waivers for School Groups
We are proud to offer free tours for school groups visiting Hubbell Trading Post National Historic Site. To request a fee waiver for your school group, complete the Fee Waiver Application and submit it to the park. Please allow one month for processing.
Picking pumpkins from the Hubbell garden.
NPS photograph by Naomi Shibata.
Free Tours at Hubbell Trading Post and Entrance to All National Parks
Eleven free days have been established for your enjoyment in 2013. The fee free dates are January 21 (Martin Luther King, Jr. birthday), April 22 to 26 (National Park Week), August 25 (National Park Service Anniversary), September 28 (National Public Lands Day), and November 9 to 11 (Veteran's Day weekend).
At Hubbell Trading Post we will also offer free access to the Hubbell Family home in the morning during the two auction days, May 4 and September 14.
More information about the national program visit http://www.nps.gov/findapark/feefreeparks.htm


Did You Know?
Friends of Hubbell Trading Post NHS conduct two Native American Arts and Crafts Auctions yearly.