Fees & Reservations
Tours of the Hubbell Home
Tours are offered throughout each day and limited to 15 people for your personal enjoyment. Check at the visitor center for availability.
Hubbell Home Tours: $2.00 per person, user fee. Visitors 15 years old and younger are free.
User Fees collected will support a variety of resource management, visitor services and historic preservation projects at the park. These projects will enhance your experience and increase your understanding of the significance of Hubbell Trading Post National Historic Site. We appreciate your continued support for the National Park Service and hope your visit here will be a memorable one.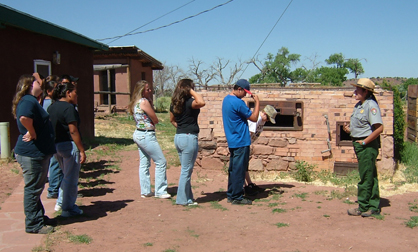 NPS Photo, Naomi Shibata
Commercial Tour Fee
To ensure a tour of the Hubbell home for commercial or other organized tour groups call, write or e-mail to reserve specific tour times. A tour fee of $2.00 per person will be collected from the group. All Hubbell home tours/programs are limited to 15 people per tour. If there are more than 15 people in the group, the group may be divided. Additional tours may be added to accommodate the group.
Contact Ranger Tina Lowe for reservations or if you have any questions, comments, or concerns by calling (928) 755-3475 or e-mail her.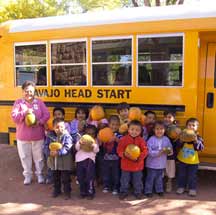 Fee Waivers for School Groups
We are proud to offer free tours for school groups visiting Hubbell Trading Post National Historic Site. To request a fee waiver for your school group, complete the Fee Waiver Application and submit it to the park. Please allow one month for processing.
Picking pumpkins from the Hubbell garden.
NPS photograph by Naomi Shibata.
Fee Free Days For 2014 Announced
Circle the dates on the calendar and plan your trip - America's 401 national parks will offer free admission on nine days in 2014, including several holidays.
The 2014 entrance fee-free days are:
January 20th - Martin Luther King Jr. Day
February 15th to February 17th - Presidents Day weekend
April 19th to April 20th - National Parks Week's opening weekend
August 25th National Park Service's 98th birthday
September 27th - National Public Lands Day
November 11th - Veterans Day
With more than 84 million acres of spectacular scenery, 17,000 miles of trails, 5,000 miles of shoreline, 27,000 historic and prehistoric structures, and 100 million museum items and an infinite number of authentic American stories to tell, national parks offer something for every taste.
Those in search of superlatives will find them in national parks. Normally, 133 national parks charge an entrance fee that ranges from $3 to $25. The entrance fee waiver does not cover amenity or user fees for things like camping, boat lauches, transportation, or special tours.


Did You Know?

Hubbell Trading Post National Historic Site has effectively cleared exotic vegetation from the Pueblo Colorado Wash within and adjacent to the park. Over 10 years of work have cleared nearly 16 acres of riparian vegetation returning it to its natural condition.