Artist in Residence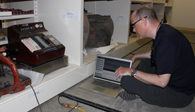 Become an Artist in Residence!
The Hubbell Trading Post and Navajo Nation landscapes will inspire you to paint, draw, photograph or write while living in a historic, fully furnished stone hogan. The Hubbell Artist in Residence Program allows creative professionals a place to stay while working on special projects. Consider joining us for one or two weeks to create art.
Artists Participating in 2013
Sally Rydalch, Painter - April 16 through April 27
Scott Alexander Jones, Author - May 15 through May 25
Charlie and Pat Norton, Painter & Sculptor - September 17 through September 30
Larry Blackwood, Photographer - October 18 through October 31
AIR artwork created at Hubbell Trading Post NHS.
Did You Know?

The Friends of Hubbell Trading Post Native American Art Auctions offer hand made pottery, baskets, paintings, weavings, jewelry and carvings. More...