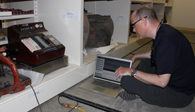 ARTIST IN RESIDENCE - 2016 HIATUS!
We will not be offering the Artist in Residence Program in 2016. We want to thank the 2015 and former artists for their participation in the program and look forward to hosting a new group of artists in 2017. With all the activities surrounding the National Park Service Centennial in 2016, and the large number of artists we are hosting this year we need to take a break to revise our program guidelines and reassemble our selection committee.
Please check back in the summer of 2016 for revised guidelines, application forms, and deadlines for 2017!
Artists Participating in 2015
Barbara Fedeler, Drawing/Painting, February 22-March 8, 2015
Bill Meek and Denneen Peterson, Quilting/Fiber Arts, April 13-27, 2015
Christina Heinle, Photography, May 16-23, 2015
Evelyn Christian, Watercolor, May 31-June 13, 2015
Donna Sakamoto Crispin, Visual Fiber Art, June 16-30, 2015
Peggy Marlatt, Plein Air Pastel Landscape, July 18-August 1, 2015
Carol V. Davis, Poetry, August 3-10, 2015
Paula Scott, Mixed Media, August 21-September 4, 2015
Vanessa Compton, Hand-cut Collage, November 15-30, 2015
We welcome these artists to Hubbell Trading Post NHS with great enthusiasm. Please visit with them in the stone hogan or when they are out on the park.
AIR artwork created at Hubbell Trading Post NHS.