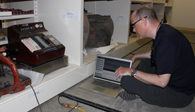 Become an Artist in Residence!
The Hubbell Trading Post and Navajo Nation landscapes will inspire you to paint, draw, photograph or write while living in a historic, fully furnished stone hogan. The Hubbell Artist in Residence Program allows creative professionals a place to stay while working on special projects. Consider joining us for one or two weeks to create art. Applications are accepted each December for the following year. Open the attached information and application files to begin your participation in the Hubbell Trading Post National Historic Site Artist in Residence Program.
Artists Participating in 2015
Barbara Fedeler, Drawing/Painting, February 22-March 8, 2015
Bill Meek and Denneen Peterson, Quilting/Fiber Arts, April 13-27, 2015
Christina Heinle, Photography, May 16-23, 2015
Evelyn Christian, Watercolor, May 31-June 13, 2015
Donna Sakamoto Crispin, Visual Fiber Art, June 16-30, 2015
Peggy Marlatt, Plein Air Pastel Landscape, July 18-August 1, 2015
Carol V. Davis, Poetry, August 3-10, 2015
Paula Scott, Mixed Media, August 21-September 4, 2015
Vanessa Compton, Hand-cut Collage, November 15-30, 2015
We welcome these artists to Hubbell Trading Post NHS with great enthusiasm. Please visit with them when you come to Hubbell. For more information on how to become an Artist-In-Residence, please call (928) 755-3475.
AIR artwork created at Hubbell Trading Post NHS.