Truman Home Second Floor Photo Tour
"During the life of my daughter, the area above the first floor of my residence shall not be available to the public." --Bess Truman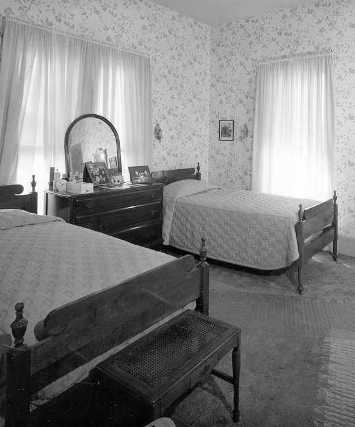 HABS Photo, Jack E. Boucher
When Bess Truman passed away in 1982, her will left her home in Independence to the United States of America, with one important stipulation. Mrs. Truman wrote, "During the life of my daughter, the area above the first floor of my residence shall not be available to the public."
Mrs. Truman enjoyed her privacy, rarely inviting visitors into the private areas of her home. To ensure her daughter's privacy, Bess wrote into her Will, permission for Margaret to use the second floor for one week per year. While Margaret never stayed in the home after her parents' deaths, the National Park Service upheld the conditions of the Will.
Margaret Truman Daniel passed away on January 29, 2008. While Bess Truman's concern for her daughter's privacy is no longer an issue, preservation of the President's home is a paramount concern and the upstairs of the Truman home will remain closed to the public.
Images of the second floor rooms can now be viewed in the image gallery below.