Weekend Parking

Due to the Santa-Cali-Gon Days Festival (Aug. 29 - Sept. 1) in downtown Independence, parking will be limited around the park visitor center and surrounding neighborhoods. Please plan accordingly. The Truman Home will be open for tours.
Places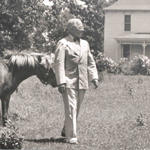 The Harry S Truman Farm Home in Grandview, Missouri was added to the site on May 8, 1994. Visit the Truman Farm Home Photo Tour page to explore the site online.
The Truman Home offers a glimpse at the personal life of the 33rd President of the United States. Beautiful in its uncluttered commonness, the Truman Home showcases the simple life Truman and his wife Bess enjoyed in Independence before and after his presidency.

The Harry S. Truman Library, the first Presidential Library to be created under the provisions of the 1955 Presidential Libraries Act, was established to preserve the papers, books, and other historical materials relating to former President Harry S. Truman and to make them available to the people in a place suitable for exhibit and research.
Did You Know?

Senator Joseph McCarthy was a thorn in President Truman's side. In February 1950, the Senator announced that he had a list of names of Communists in the State Department. His charges were never proved, and the Senate censured him in 1954.