Park Closure

The Truman Home and Visitor Center will be closed on Wed. July 16 and Mon, July 21. Please check back for updates.
Home to the People's President
Harry Truman once said, "The only thing new in the world is the history you do not know." From an early age, Harry understood that you never stop learning. Today, students can experience the surroundings Truman knew as a young man of modest ambition through his political career and final years as a former president.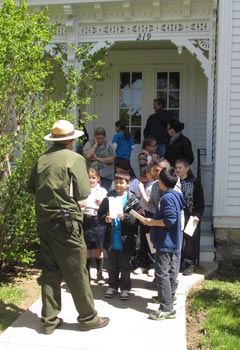 Features
Oral History

Over the past 29 years, this program has continued to preserve important information passed down about the Truman family's home life and community.

Read More

Social Media

Get connected with facebook, twitter, & more! Experience the park in an entirely new way.

Read More

Online Exhibits

Harry S Truman NHS preserves over 50,000 artifacts related to the Truman family. Click below to see a selection of objects from the collection.

Read More