Weekend Parking

Due to the Santa-Cali-Gon Days Festival (Aug. 29 - Sept. 1) in downtown Independence, parking will be limited around the park visitor center and surrounding neighborhoods. Please plan accordingly. The Truman Home will be open for tours.
Parks as Classrooms
Harry S Truman NHS has partnered with two important National Park Service initiatives, Teaching with Historic Places (TwHP) and Teaching with Museum Collections, in order to provide educators with cirriculum materials related to President Truman, his life and his times.
Curriculum Materials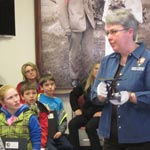 Curriculum Materials
Learn More
Reservations are required by contacting the Park's Interpretation Division at (816) 254-9929. Groups MUST begin at the Park's Visitor Center located at 223 North Main Street, on the Independence Square.
Field Trips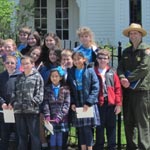 Plan a Field Trip
Learn More