NPS Civil War to Civil Rights Trading Cards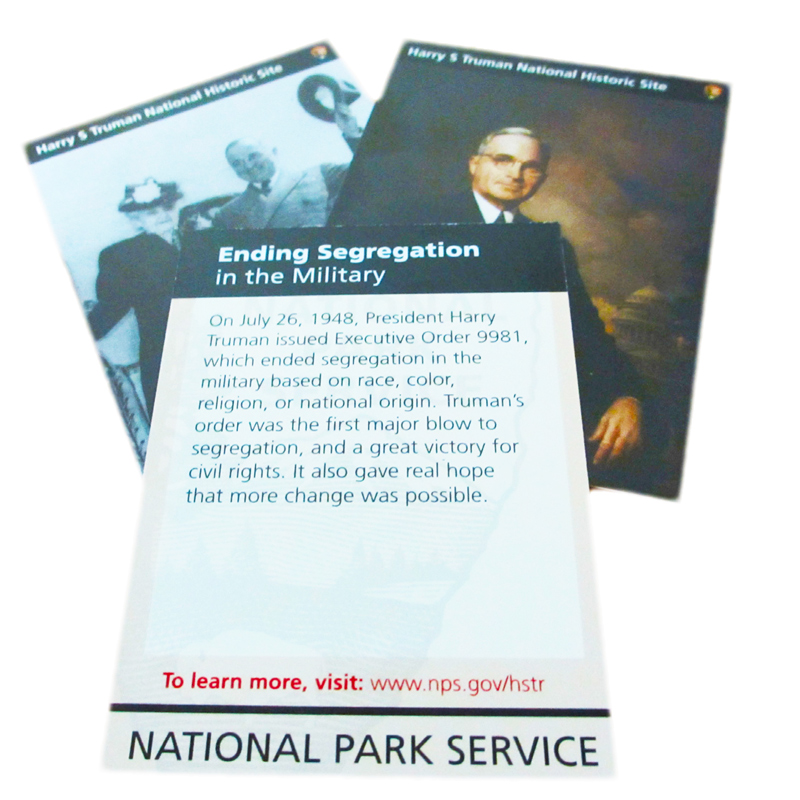 Looking for a fun and educational way to learn about America's Civil War? Collect the National Park Service's Civil War to Civil Rights trading cards. The free cards are available at select National Park Service sites in commemoration of the 150th Anniversary of the Civil War. The NPS Civil War to Civil Rights trading card program has expanded in 2012. Last year, the program started with 23 parks and 189 cards. This year the program has expanded to 87 parks -- more than 22% of all NPS units -- and there are 550 total cards.
Separately these cards provide tools for visitors to appreciate new perspectives associated with individual parks and sites. Collectively they become the ties that bind us together as a nation of complexities and help us provide opportunities to explore the concepts of the Civil War, the fight for freedom, and the ongoing struggle to achieve equality for all people.
Harry S Truman National Historic Site offers three cards:
Harry Truman: Champion of Civil Rights
Ending Segregation in the Military
Overcoming Racism
Civil War to Civil Rights Trading Cards Park List

Start collecting today!
Did You Know?

Harry Truman said committing ground troops to Korea was his most difficult decision as president, while his biggest disappointment was his inability to overcome the organized opposition to a mandatory universal health care program.