RFP for Maurice and Libbey Bathhouses

Requests for Proposals for the Maurice and Libbey Bathhouses are being accepted from 7/7/14 to 1/30/15. Click on the "Management" link in the left column for more information.
Elevator closure

Hot Springs National Park regrets to announce that the elevator in the Fordyce Visitor Center is closed for maintenance. The upper and lower levels are accessible only by stairways. The elevator will be placed back into service in about 4 to 6 weeks.
Whittington Trail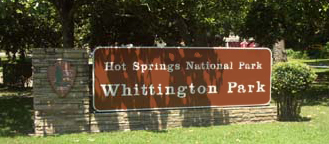 Whittington Trail is approximately 1.2 miles in length. Gravel trails here are popular with joggers and walkers. This area was created in the 1800's as a formal landscaped park. In the 1930's it was the scene of summer concerts, (still an occasional site), and horseback riding. Today, it serves as a peaceful getaway from the hustle and bustle of downtown Hot Springs.
Did You Know?

The name Gulpha Creek is a corruption of the French name for the stream. Explorer William Dunbar reports the name "Fourche á Calfat" in the journal of his visit in 1804. Calfat eventually became Gulpha.