Holiday Closures

The Fordyce Bathhouse Visitor Center will be closed on Christmas (December 25) and New Year's Day (January 1). More »
Permits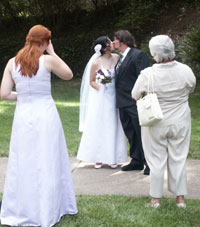 Special Use Permits
There are several types of special use permits necessary for certain activities/events held at Hot Springs National Park. The links below provide you with information regarding such permits. You will need Adobe Acrobat Reader to open these files.
Special Events - (Weddings, Assemblies, Events, etc.)
Filming/Photography
First Amendment-Public Assemblies and Distribution of Printed Matter
If you have any questions or require further information, please contact Park Permits Office by e-mail or at (voice) 501-623-2824 or fax at 501-620-6778.
Did You Know?

The name Gulpha Creek is a corruption of the French name for the stream. Explorer William Dunbar reports the name "Fourche á Calfat" in the journal of his visit in 1804. Calfat eventually became Gulpha.