Oak Trail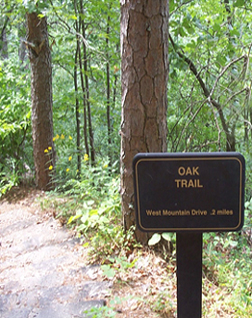 The Oak Trail can be accessed from Mountain Street, across from the Hot Springs National Park Visitor Center. It begins as a steep, concrete ramp for the first 100 yards. You may walk around the yellow gate. Be especially careful of steel drainage grates as well as loose rocks and seedpods in this area. Climb the 7 stone steps to the left and walk 100 yards to the right for the Canyon Trail, or, to reach the West Mountain Trail, walk left at the top of the stairway.
The left path will continue for nearly one-half mile, crossing water drains and passing behind the historic Levi Hospital. Taking the right path. Soon you will notice an old roadbed that runs parallel to the Oak Trail. This was a section of the former Whippoorwill Street. The Oak Trail turns left, toward a stone retaining wall with a drain. Beside the wall, a concrete footbridge with a steel handrail leads to a large trailhead sign marked "Oak Trail." This is the intersection with Canyon Trail.
Did You Know?

The hot spring water at Hot Springs National Park becomes heated at a depth of approximately one mile before beginning the journey back to the surface through a fault.