RFP for Maurice and Libbey Bathhouses

Requests for Proposals for the Maurice and Libbey Bathhouses are being accepted from 7/7/14 to 1/30/15. Click on the "Management" link in the left column for more information.
Elevator closure

Hot Springs National Park regrets to announce that the elevator in the Fordyce Visitor Center is closed for maintenance. The upper and lower levels are accessible only by stairways. The elevator will be placed back into service in about 4 to 6 weeks.
Mountain Top Trail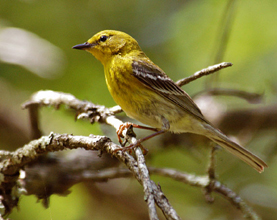 A little longer than many park trails, Mountain Top Trail begins at Whittington Avenue as a steep, smooth-surfaced gravel path. At the intersection with the West Mountain Trail, continue to the right as the path begins to gradually rise. The remainder of the climb is smooth with novaculite rocks littering the trail near the peak.
At the intersection on the mountain peak, the Sunset Trail crosses to the right, and if you go right, it is a 13.5-mile trip.
The Mountain Top Trail continues across the Sunset Trail and makes a curvy, steep descent made difficult by many stone and concrete water bars. Watch your step. The trail meets West Mountain Trail again to your left. This area is thick with large pine trees; pine warblers can be seen here year-round. The Mountain Top Trail continues down the mountain, where it meets Prospect Avenue after another 100 yards.
Did You Know?

The hot spring water at Hot Springs National Park becomes heated at a depth of approximately one mile before beginning the journey back to the surface through a fault.