RFP for Maurice and Libbey Bathhouses

Requests for Proposals for the Maurice and Libbey Bathhouses are being accepted from 7/7/14 to 1/30/15. Click on the "Management" link in the left column for more information.
Elevator closure

Hot Springs National Park regrets to announce that the elevator in the Fordyce Visitor Center is closed for maintenance. The upper and lower levels are accessible only by stairways. The elevator will be placed back into service in about 4 to 6 weeks.
2015 Artist-in-Residence Program Cancelled

Due to the 100th anniversary celebration for the Fordyce Bathhouse, there will be no Artist-in-Residence program at Hot Springs National Park for 2015. Check back later next year for announcements and application information for the 2016 AIR program.
Let's Move Outside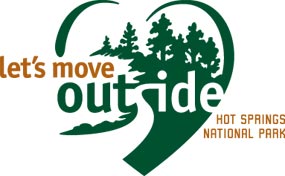 Logo by Hugh Dunnahoe
Let's Move Outside and improve our physical and mental health. Hot Springs National Park will help you get started and meet your personal goal of improving your quality of life. And, you will earn free incentives for walking and hiking the trails in Hot Springs National Park.

Here's how the "Let's Move Outside" program works. Pick up a walking record card at the park visitor center to keep notes on your progress, and the amount of time and the trails you walked. Each time you walk in the national park you record it. When you reach 5, 10, 25, 50, 100, 200, and 400 hours, bring the walking-record booklet back to the park visitor center to receive your free incentive. For walking 5 hours in the park you will be awarded a water bottle that you can use during future walks.
Children can participate with the walking card, but especially for children, the park has a new Junior Trail Ranger program. Children may pick up a program guide at the visitor center and complete walking at least three designated trails and complete five activities. They will then return to the park visitor center to receive an award pin.
"Let's Move Outside" is a national program to promote activity in the outdoors. Numerous studies have shown that exercise has many health benefits and just being in a natural setting has been shown to lower blood pressure. This program focuses on time spent on the trails because most studies show exercising at least 30 minutes a day several times a week is most beneficial. These programs are sponsored by the National Park Foundation, Unilever, and Eastern National.
Did You Know?

In May 1862, Arkansas Governor Henry Massie Rector moved the state government to his hotel and bathhouse located on Hot Springs Reservation, now Hot Springs National Park. That July, the government seat was moved further south to Old Washington for the remainder of the Civil War.