RFP for Maurice and Libbey Bathhouses

Requests for Proposals for the Maurice and Libbey Bathhouses are being accepted from 7/7/14 to 1/30/15. Click on the "Management" link in the left column for more information.
Elevator closure

Hot Springs National Park regrets to announce that the elevator in the Fordyce Visitor Center is closed for maintenance. The upper and lower levels are accessible only by stairways. The elevator will be placed back into service in about 4 to 6 weeks.
2015 Artist-in-Residence Program Cancelled

Due to the 100th anniversary celebration for the Fordyce Bathhouse, there will be no Artist-in-Residence program at Hot Springs National Park for 2015. Check back later next year for announcements and application information for the 2016 AIR program.
Grand Promenade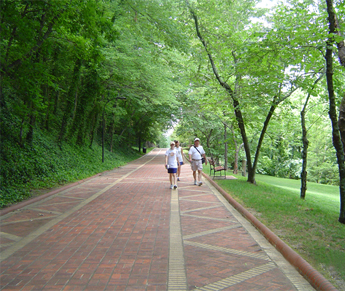 Hot Springs area EAST Labs
Running parallel with Central Avenue and Bathhouse Row from Reserve Street to Fountain Street, the half-mile Grand Promenade offers views of historic downtown Hot Springs, the Arlington Lawn, the hot springs cascade, quartz veins in the sandstone and tufa cliffs. The brick promenade has been a National Recreation Trail since 1982. It is a must-see for all visitors.
The north end passes the site of the first superintendent's residence, demolished in 1958. The south entrance is below the impressive Hot Springs Rehabilitation Center. Built in 1933 as the second Army-Navy hospital, it has been used by the state for over 40 years.
The Grand Promenade started as part of a Public Works Administration project in the 1930s and was completed in 1957. Several park trails begin and end from the Grand Promenade.
Did You Know?

Water emerging from the hot springs in Hot Springs National Park fell as rain when the pyramids of Egypt were built—4400 years ago!