Fordyce Bathhouse Visitor Center Closed

The Fordyce Bathhouse Visitor Center is closed until Fall 2013 for a major maintenance project. A temporary park Visitor Center, along with the park store, are located in the Lamar Bathhouse at the south end of Bathhouse Row. Call for more information.
Grand Avenue Trail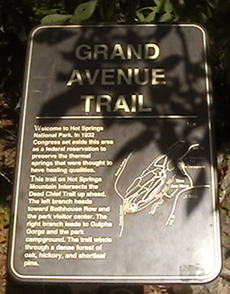 The Grand Avenue Trail is approximately 0.2 miles in length but is a beautiful walk. This spur of Dead Chief Trail ends at a motel on Grand Avenue.
Did You Know?

The Public Health Service operated a venereal disease clinic in the Government Free Bathhouse (1922-1948) in Hot Springs National Park, Arkansas. It was one of the first facilities in the United States to use penicillin. In 1948, the clinic transferred to the nearby Camp Garraday Transient Camp.