RFP for Maurice and Libbey Bathhouses

Requests for Proposals for the Maurice and Libbey Bathhouses are being accepted from 7/7/14 to 1/30/15. Click on the "Management" link in the left column for more information.
Elevator closure

Hot Springs National Park regrets to announce that the elevator in the Fordyce Visitor Center is closed for maintenance. The upper and lower levels are accessible only by stairways. The elevator will be placed back into service in about 4 to 6 weeks.
2015 Artist-in-Residence Program Cancelled

Due to the 100th anniversary celebration for the Fordyce Bathhouse, there will be no Artist-in-Residence program at Hot Springs National Park for 2015. Check back later next year for announcements and application information for the 2016 AIR program.
Dead Chief Trail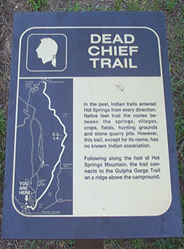 From the Dead Chief Trailhead at the Army-Navy gate above the Stevens Balustrade, this trail intersects with the Gulpha Gorge Trail for the easiest walk (1.6 miles) from Bathhouse Row to the park campground at Gulpha Gorge. At first, the route is quite steep, then the trail levels off and continues across the south slope of Hot Springs Mountain towards Gulpha Gorge.
The historic Oertel Fitness Trail, completed in 1915, once followed what is now the west end of Dead Chief Trail. The portion of Dead Chief Trail below the Shortcut Trail intersection was part of the Red Trail, the most strenuous of the Oertel system's exercise program.
Read more about the Oertel System of Graduated Exercise in this .pdf page.
Did You Know?

On June 10, 1936, President and Mrs. Franklin D. Roosevelt visited Hot Springs National Park and toured the Fordyce Bathhouse as part of the Arkansas centennial celebration. FDR used the baths at Warm Springs, Georgia, on a regular basis to relieve his polio. He never bathed in Hot Springs.