RFP for Maurice and Libbey Bathhouses

Requests for Proposals for the Maurice and Libbey Bathhouses are being accepted from 7/7/14 to 1/30/15. Click on the "Management" link in the left column for more information.
Elevator closure

Hot Springs National Park regrets to announce that the elevator in the Fordyce Visitor Center is closed for maintenance. The upper and lower levels are accessible only by stairways. The elevator will be placed back into service in about 4 to 6 weeks.
Canyon Trail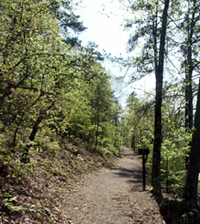 NPS Photo
The Canyon trailhead is behind the Mountain Valley Water building. You can see nice views of the Medical Arts Building and the Arlington Hotel from this trail. It begins as a 150-yard serpentine path which was once part of the old carriage road, Canyon Street. At the intersection with Oak Trail, take the right path. This leads up the mountain around a novaculite outcropping and crosses West Mountain Drive. The Canyon Trail intersects the West Mountain Trail just below a picnic area and overlook along West Mountain Drive.
Did You Know?

Hot Springs National Park Ranger James Cary was the first National Park Service ranger to be killed in the line of duty. He was shot by bootleggers while patrolling West Mountain on March 12, 1927.