Fordyce Bathhouse Visitor Center Closed

The Fordyce Bathhouse Visitor Center is closed until Fall 2013 for a major maintenance project. A temporary park Visitor Center, along with the park store, are located in the Lamar Bathhouse at the south end of Bathhouse Row. Call for more information.
Canyon Trail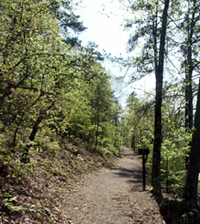 NPS Photo
The Canyon trailhead is behind the Mountain Valley Water building. You can see nice views of the Medical Arts Building and the Arlington Hotel from this trail. It begins as a 150-yard serpentine path which was once part of the old carriage road, Canyon Street. At the intersection with Oak Trail, take the right path. This leads up the mountain around a novaculite outcropping and crosses West Mountain Drive. The Canyon Trail intersects the West Mountain Trail just below a picnic area and overlook along West Mountain Drive.
Did You Know?

On June 10, 1936, President and Mrs. Franklin D. Roosevelt visited Hot Springs National Park and toured the Fordyce Bathhouse as part of the Arkansas centennial celebration. FDR used the baths at Warm Springs, Georgia, on a regular basis to relieve his polio. He never bathed in Hot Springs.