RFP for Maurice and Libbey Bathhouses

Requests for Proposals for the Maurice and Libbey Bathhouses are being accepted from 7/7/14 to 1/30/15. Click on the "Management" link in the left column for more information.
Elevator closure

Hot Springs National Park regrets to announce that the elevator in the Fordyce Visitor Center is closed for maintenance. The upper and lower levels are accessible only by stairways. The elevator will be placed back into service in about 4 to 6 weeks.
Balanced Rock Trail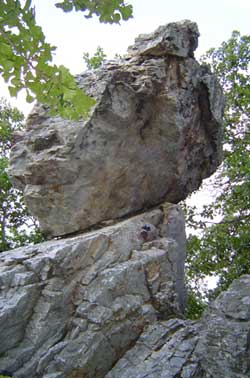 Hot Springs area EAST Labs
This short (.2 mile) spur off of Sunset Trail leads to the Balanced Rock, a natural novaculite outcrop making a beautiful lookout over western Garland County.
Did You Know?

The Public Health Service operated a venereal disease clinic in the Government Free Bathhouse (1922-1948) in Hot Springs National Park, Arkansas. It was one of the first facilities in the United States to use penicillin. In 1948, the clinic transferred to the nearby Camp Garraday Transient Camp.