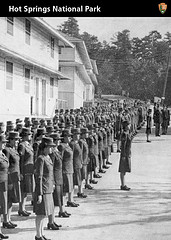 Courtesy of Garland County Historical Society
Army and Navy General Hospital
What began as a hospital for Civil War veterans in the 1880s later offered women a chance to help during World War II. The Army and Navy General Hospital housed the first medical technical school for the Women's Auxiliary Army Corps, (WAC). Women were assigned courses for medical, surgical, dental, laboratory, or x-ray technicians, physical and occupational therapy.