Kids! Collect stories about the Civil War and civil rights! The National Park Service is offering more than 500 trading cards to mark the 150th anniversary of the Civil War. Visit a park in person to earn a card (sorry, cards cannot be mailed). Ask a ranger or stop by the visitor center at a participating park, such as this one. You can view all the cards online and discover stories from nearly 90 national parks in 31 states and the District of Columbia. You'll be surprised at what you will learn.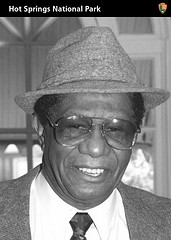 Hot Springs National Park
Alroy Puckett
Alroy Puckett was manager of the National Baptist Hotel and Bathhouse when it closed in 1982. Before integration, this facility was the center of the African American community. Mr. Puckett viewed the business closing as bittersweet, saying "It's a small price to pay for integration. If that is what is killing us, then let it go on."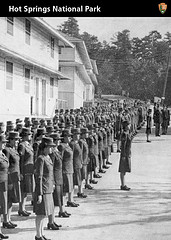 Courtesy of Garland County Historical Society
Army and Navy General Hospital
What began as a hospital for Civil War veterans in the 1880s later offered women a chance to help during World War II. The Army and Navy General Hospital housed the first medical technical school for the Women's Auxiliary Army Corps, (WAC). Women were assigned courses for medical, surgical, dental, laboratory, or x-ray technicians, physical and occupational therapy.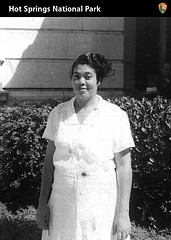 Courtesy of Hildreth family
Hot Springs Bathhouses Offered Good-Paying Jobs
The segregated bathhouses offered African Americans a good income for the area. They received a salary, but could also accept tips. Clients often asked for a favorite attendant year after year. Several left teaching for bathhouse positions. Massage therapists were highest paid, but that meant traveling to the Kellberg Institute in Chicago for training.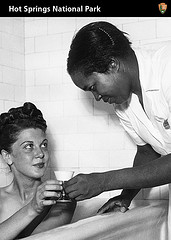 Hot Springs National Park
Hot Springs Bathhouses
African Americans were the main workforce for the bathhouses in Hot Springs National Park and the city of Hot Springs, Arkansas. Before integration in the 1960s, due to local laws, they could not be customers in those bathhouses. If they wanted a bath treatment, they had to go to an African American-owned bathhouse. Read more.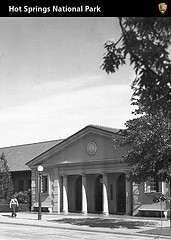 Hot Springs National Park
Free Baths for Indigents
Following the Civil War, veterans flocked to Hot Springs, Arkansas seeking treatments for wounds and illnesses. Many were poor and could not afford to pay for bath treatments. This started the tradition of federally operated free bathhouses for the poor. The last of the free bathhouses was the Libbey and discontinued this service in 1957.